Band: AmonSethis
Titel: Part II The Final Struggle
Label: Dooweet Records
VÖ: 2014
Genre: Metal
Bewertung: 3,5/5
Written by: Robert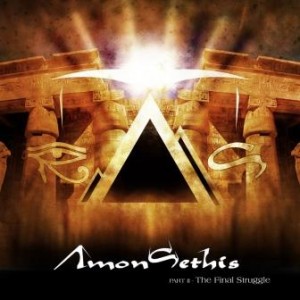 Metal Musik aller Arten beeinflusst von der ägyptischen Mythologie ist ja wirklich nichts Neues und daran können auch AmonSethis nichts ändern. Wohl aber kommt es immer auf die musikalische Umsetzung an und davon können die Jungs wirklich nähren. Ihr Material auf dem Output "Part II : The Final Struggle" ist wirklich cool. Freilich erinnert man stark an eine Power lastige Version von Orphaned Land, aber aufgrund eben dieser Parallele ist das Ganze so toll anzuhören. Einfädelungen aus dem orientalischen Sound Bereich wurden gelungen eingesetzt und lassen die Stimmung hochschnellen. Manko hierbei ist leider etwas der Drumsound, welcher einfach zu klinisch klingt, dadurch nimmt man den Songs leider etwas den Druck, was anders herum deutlich besser und mächtiger klingen würde. Die 2007 gegründete aus Grenoble stammende Formation hat viel Einfallsreichtum und auch an der Umsetzung selbiger mangelt es nicht. Freilich ist hier sicherlich noch viel Luft nach oben offen, doch mit der vorliegenden, gezeigten Leistung braucht man sich sicherlich nicht verstecken. Gute, verschlungene Melodien und leicht verdauende Synthyeinlagen lassen kaum einen Kitschfaktor zu und alles in allem wirken die Songs etwas konzeptionell veranlagt, was dem progressiven Beigeschmack sehr gut kommt. Kein einziger Song ist zu simpel gestaltet und man überzeugt mit viel gut eingefädelten Ansätzen und Erweiterungen in den Tracks. Es mag sicherlich der Grundgedanke nichts Neues sein, wohl aber bringt man mit diesen Stücken viel frischend Wind in die ägyptische Mythologie.
Fazit: Gut wurde hier eine neue Tür aufgestoßen und das Konzept, wie auch die Qualität der Formation ist sehr gut. Neu sicherlich nicht, aber durchaus eine erfrischende Runde im Bereich Metal meets Ägypten, Pharaonen und so weiter. Zwischen Power, Melodic und Symphonic Metal wird eine breite Palette fusioniert. Nicht überheblich kitschig, dafür aber mit guten Soundideen auf eine neue Ebene gehievt.
Tracklist:
01. Prelude to Chaos
02. Shadow the Light
03. Pharaoh's Army
04. Hope
05. Aissem Tenemrâ
06. Eyes of the Sun
07. Ateravis the Commander
08. Exterminate the Earth
09. Far Beyond Death
10. The Final Struggle
Besetzung:
Julien Tournoud (voc)
Olivier Billoint (guit)
Sofian Mejri (oriental voc)
Johan Koninckx (keys)
Thierry Delvaux (drums)
Thierry Ventura (bass)
Internet: