Band: Axel Rudi Pell
Titel: The Ballads V
Label: SPV/Steamhammer
VÖ: 21.04.17
Genre: Heavy Metal/Power Metal
Bewertung: ohne Bewertung
Written by: Robert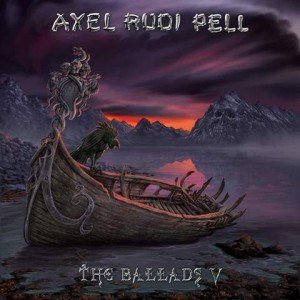 Klassischer Heavy Rock/Metal steht unter dem Erfolgsbanner Axel Rudi Pell seit jeher auf allerhöchstem Niveau. Die Reflektionslupe ausgepackt, seien wir ehrlich, seit den ersten Gehversuchen mit Charlie Huhn, Rob Rock, sowie Langzeitsänger Jeff Scott Soto, zelebrierte die Wattenscheider Combo brillanten Stahl, welchen oftmals einen Richie Blackmore blass erscheinen lassen. Kein Frevel, sondern meine persönliche Meinung. Seit dem Einstieg von Johnny Gioeli hat sich die Formation weiterhin gesteigert und der gut Johnny bewies, dass er seinem Vorgänger Jeff in nichts nachstand. Markerschütternder Gesang der oftmals sehr tief unter die Haut geht.
Vortreffliche Meisterwerke zieren selbst in meinem Eigenheim das Regal und werden stilgerecht des Öfteren aufgelegt. Eine komplette Balladenansammlung auf einen Silberling gepackt ist seitens Axel bekanntlich jetzt nichts Neues. Denn mit dieser Ansammlung wird bereits die 4 Folge der Balladenserie vorgelegt. Gut braucht man dies heutzutage echt? Ist immer eine dementsprechende Frage, zumindest fürs kuschelige Beisammensein kann ich dem altgedienten Rocker diese Ansammlung nur empfehlen. Somit spart man sich das Skippen, man will wahrhaftig nicht das gleich darauf ein zahniger Track die Stimmung unterbricht. Bekannt dürfte allerdings der Großteil der Stücke dem eingefleischten Axel Rudi Pell jeder Track sein. Ausnahme sind hierbei "Love's Holding On" mit Reibeisenröhre Bonny Tyler und dem Stück "On The Edge Of Our Time", sowie dem Ed Sheeran Cover "I See Fire". Letztgenanntes ist in metallischer Form ja von Leo Moracchioli zuvor ausgezeichnet interpretiert worden. Doch desgleichen die Axel Rudi Pell Version mit Johnny als Sänger ist nicht von schlechten Eltern.
Axel Rudi Pell stehen und machen zu 100 % das, was sie anhaltend schon gemacht haben und dies unter einem Deckmantel der hochwertigen Qualität. Da könnte man maulen was man will, zu meckern gibt es hier nichts, weil eben das Niveau der Wattenscheider Combo dermaßen hochgesteckt ist, sodass man auch bei einer Balladen-Scheiblette gebannt vor dem Player hängt. Kann sicherlich am Spiel des Gitarrenhexers liegen, für meinen Geschmack tendiere ich eher dazu dem Sänger zu attestieren, dass er einen verzaubert. Nun gut, das muss jeder für sich und seinen Vorlieben entscheiden, warum man diese Combo als Traditions-Metaller/Rocker demgemäß verehrt.
Gewürzt und ausgestattet sind die Love-Perlen aus der Feder von Axel mit pfeffrigen Riffs, gefühlvollen Solis, sowie einer Vielzahl von bemerkenswerten Gefühlsgestaden. Dies begründet meine Meinung den guten Axel als deutsche Version von Richie Blackmore zu sehen, Punktum!
Wem empfiehlt man solch einen Balladen-Silberling, gegenwärtig jenen, die Alles-Sammler von Axel Rudi Pell sind genauso, wie der Fraktion, welche für Kuschelmomente den benötigten Sound suchen, denn was Besseres in Sachen Kuschelrock wird es in der Art nicht mehr so schnell geben. Der Rest kann getrost auf den nächsten Full Length Release der deutschen Heavy Rock Institution warten!
Tracklist:
01. Love's Holding On 05:06
02. I See Fire (Ed Sheeran cover) 06:02
03. On the Edge of Our Time 07:42
04. Hey Hey My My (Neil Young cover) 05:02
05. Lived Our Lives Before 06:31
06. When Truth Hurts 06:46
07. Forever Free 08:27
08. Lost in Love 06:05
09. The Line (live) 07:31
10. Mistreated (Deep Purple cover) (live) 14:12
Besetzung:
Johnny Gioeli (voc)
Axel Rudi Pell (guit)
Ferdy Doernberg (keys)
Volker Krawczak (bass)
Bobby Rondinelli (drums)
Internet: