Band: Cnoc An Tursa
Titel: The Forty Five
Label: Apocalyptic Witchcraft Recordings
VÖ: 17.2.2017
Genre: Black/Folk/Celtic Metal
Bewertung: 4/5
Written by: Jasmin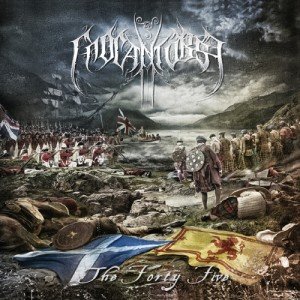 Cnoc An Tursa wurde bereits 2006 in Falkirk gegründet und besteht aus vier sehr traditionsbewussten Schotten. Sie tragen bei Konzerten brav ihre Kilts und auch der Bandname kommt aus dem schottisch-gälischen und bedeutet so viel wie Hügel des stehenden Steins.
Das nun veröffentlichte Album "The Forty Five" wurde nach dem Jakobitenaufstand 1745 benannt, bei dem Charles Edward Stuart, "Bonnie Prince Charlie", dem die schottischen Hochland-Clans folgten, fast den Thron eroberte. Dies gilt seitdem als romantischer Nationalmythos.
Die Songs sind allesamt schottische Traditionals, die jedoch sehr liebevoll, metallisch aufbereitet wurden.
Besonders angetan hat es mir "The Yellow Locks Of Charlie", das den Hörer nach dem ruhigen Intro "Will Ye No Come Back Again" sehr martialisch in medias res begleitet. Parallelen zu Ensiferum und Konsorten sind schnell zu finden, dennoch wirkt es eigen, nicht nachgemacht oder abgeschaut. Vielleicht vor allem wegen des Schwarzmetall ähnlichen Gesangs, der einem in schottisch-gälischer Sprache entgegen geschmettert wird und somit schon sehr anders klingt.
Gute Idee, schöne Umsetzung, einzig die Sackpfeife habe ich vermisst. Ein MUSS für alle Highlander und Schottland Fans.
Tracklist:
1. Will Ye No Come Back Again
2. The Yellow Locks Of Charlie
3. The Standard On The Braes O'Mar
4. Wha Wadna Fecht For Charlie
5. Flora MacDonald
6. Sound The Pibroch
7. Fuigheall
8. The Last Of The Stuarts
Line Up:
Alan Buchan – Guitar, Vocals
Rene McDonald Hill – Guitar, Keyboard
Bryan Hamilton – Drums
Tony Dunn – Bass
Internet: