Band: Damned Pilots
Titel: Spaced Out
Label: Radioactive Records
VÖ: 2012
Genre: Post Nuclear Stoner Glam
Bewertung: 4/5
Written by: Robert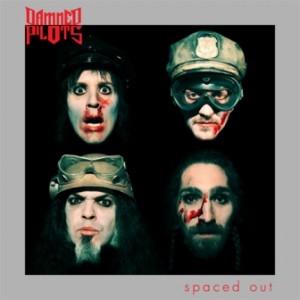 Ätherisch, psychedelisch und herrlich bekifft, genau diese drei Schlagworte treffen auf die Holländer Damned Pilots zu. Ihre Ep "Spaced Out" ist astrein im 70er Space Rock Bereich angesiedelt. Obwohl man beim Intro von alledem noch nicht viel erahnen mag, wirkt dieser Bestandteil bei den folgenden Tracks dann umso mehr. Die sehr kernigen, verdreckt – erdigen Stücke gehen locker in den Gehörgang und durch das shakige Gesamterscheinungsbild macht das Zuhören umso mehr Spaß. Obwohl der psychedelisch gegenüber den anderen drei Soundeinflüssen etwas im Hintertreffen ist, kommt er gut zur Geltung und die prächtige Fusion funktioniert bestens. Der Frontmann hat ein bemerkenswertes Organ, welches sich nicht minder den Stücken anpasst. So greift jedes Rädchen ineinander und die Gesamtmaschinerie fährt somit auf vollen Touren. Solide und essenzial ist die Rhythmik zu Recht geschnitzt worden und dabei beweist die Formation, dass auch schlichte Nummern durchaus prächtig rüber können. Dies mag wohl einerseits am Produzenten liegen, aber auch an der Spielweise mit der uns die Niederländer ihre Stücke vortragen. Zwischen Hawkind, Clutch und Black Sabbath in der Jetztzeit wird hier eine breite Melange vorgetragen und diese hätte man nicht besser umsetzen können. Einzig bei einigen Überleitungen wird etwas gepatzt und ruckartig in den anderen Soundbereich gewechselt, doch dies macht man mit der kompletten Soundstruktur locker weg und so kann man von einem klitzekleinen Manko sprechen. Kernig und mit messerscharfen Verstand wird hier eine Retrorunde gedreht, welche den Freunden des Rock/Metals der Spätsiebziger sehr gefallen wird. Obwohl ich zu dem damaligen Zeitpunkt mal gerade 4-5 Lenze gezählt habe, macht das Material ungemein Spaß und man sieht sich richtig gehend in diese Zeit zurück versetzt. Wohltuend somit und das Material sorgt durch seine erfrischende Ausgereiftheit für viel Spaß vor dem Player.
Fazit: Superbe Mischung im Bereich Sonter, Glam und Sludge Bereich, mit vielen leichten, psychedelischen Einkerbungen. Gelungen umgesetzt und somit ein Tipp für all Jene, welche auf Bands wie Hawkind, Clutch, Black Sabbath und A Pale Horse stehen.
Tracklist:
01. Believe Me Now (ELECTRIC LIGHT ORCHESTRA Cover)
02. My Word
03. Make My Day
04. Believin'in
05. Sleeping In The Fire (W.A.S.P. Cover)
06. The Masonic Rite Of Ynnoc O.
Besetzung:
Don Nutz (drums)
Johnny Angel (guit)
Ote (voc & guit)
henry Space (bass)
Internet: