Band: Ethersens
Titel: Your wandering Ghosts
Label: Scarlet Records
VÖ: 2014
Genre: Post-Rock, Sludge, Progressive Metal, Post-Metal
Bewertung: 3,5/5
Written by: JoKer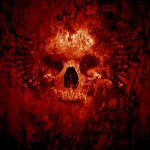 Alptraumhaft, setzt der Opener Two for one Mind ein, in dieses Bild gesellt sich der Tiefe Gesang des Sängers dazu und verbreitet somit eine bedrückend-düstere Stimmung. Langatmig wirkt der Anfang des Songs. Denn die gleiche Riff-Folge der Gitarre, die zwar durchaus was für sich hat, setzt sich immerhin knappe zweieinhalb Minuten fort. Kurze Choruntermalung und der Song, ändert seine Richtung. Ein Auf-und-Ab Riff, begleitet von Schlagzeug becken, dass leider nervt und nur kurz ab 3 einhalb Minuten von einem Gewitter aus Bass, Gitarren und Bass unterbrochen wird, dies wechselt sich kurze Zeit später ab. Okay das hier ist Progressiver Metal, der jedoch leider ZU Langatmig wird. Der Gesang setzt erst ab knapp 5 Minuten ein und das Werk gewinnt an Fahrt. Und konnte im endeffekt doch Überzeugen. Same Goodbye wirkt zu Beginn fast schon Industrial mäßig. Dies haben wir den Effekten, die auf das Drum gelegt wurden zu verdanken. Doch diese Mischung gefällt. Der Sänger kann hier voll und ganz überzeugen. Mit seinen Knapp 6 Minuten ist der Song nicht allzu langatmig. und weiß sowohl im Refrain, als auch Verspart, welcher eine sehr Ruhige Stimmung verbreitet um zu überzeugen. This is where you and I Part Ways leitet erstmals Bombastisch ein und Rockt! Der Song geht klar. Livin' Memory Rockt erneut, Gesang ist hier sehr gut. Die Gitarren und Bass-Riffs jedoch sehr simpel gestrickt. Mourning Light, leitet abermals sehr langatmig ein, erst ab knapp zweieinhalb Minuten geht es richtig los. Der Song kann vollstens überzeugen. Ruhig im Verse, rockt er im Refrain-teil ab. Reflect bietet was, was man vorher gar nicht gewöhnt war. Knallende Drums, zornige Gitarren, grummelnde Bässe, die gerade zu gierig aus den Boxen schießen. Im Verse wieder ruhig, psychodelisch, wird auf Reflect dieser Part wiederholt. Der Song haut dem Hörer richtig auf die Fresse und kann überzeugen! Walking Disorder, geht ebenfalls klar, verliert jedoch nach vier Minuten leider irgendwie total seine Wirkung. Das abschließende, To Live is To Forget , zeigt die Band ein letztes mal von ihrer starken Seite, musikalisch, Gesangs-technisch und vom lyrisch Standpunkt eines der besten Songs auf dem Album. Auch der Refrain geht vollkommen ins Ohr. Diesmal ist die Langatmigkeit von überzeugender Kraft geprägt.
Fazit: Die Platte ist zwar etwas Langatmig, kann sogar hier und da langweilen, rettet sich im gesamten jedoch. Musiker und Sänger, beherrschen ihr Handwerk und beweisen Talent. Dies ist ein Progressives Werk, das war klar. Jedoch ist es eins von solchen, die ich mir nun nicht wirklich jeden Tag anhören wollen würde. Dennoch, kann ich sie jedem Prog-Rock / Metal-Fan empfehlen. Für 5 von 5 Reichte es jedoch nicht, zu Langatmig wirkt das alles, selbst für eine Progressive Produktion. 3,5 von 5!
Tracklist:
01. Two for One Mind
02. Same Goodbye
03. This is Where You and I Part Ways
04. Livin' Memory
05. Mourning Light
06. Reflect
07. Waking Disorder
08. To Live is to Forget
Besetzung:
Laurent Mora (voc)
Stéphane Nestiri (drums)
Johan Bourrut (guit)
Mickael André (guit)
Rémy Boyer (bass)
Internet: