Band: Exit
Titel: Face the Enemy
Label: Noisehead Records
VÖ: 2014
Genre: Death/Thrash Metal
Bewertung: 4/5
Written By: Robert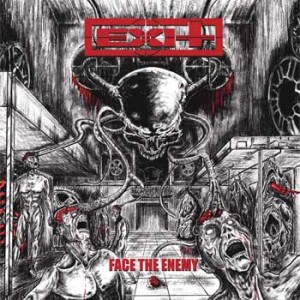 Death-/Thrash-Metal Exit ist ja wirklich schon lange im Geschäft. Bis dato habe ich aber noch nichts von den Jungs aus der Schweiz gehört und dies obwohl "Face The Enemy" bereits ihr Hattrick ist. Aufgrund der längeren Geschichte in der Bandbiographie könnte man darauf schließen, dass die Jungs eindeutig in der Old School Nische beheimatet sind. Doch bereits beim ersten Track klingt der doch sehr knackige Output weitaus nicht so traditionell wie vermutet. Ein guter Schöpfer des altgedienten Death Metal mag wohl vorhanden sein, allerdings wurde dieser sehr gut aufgewertet und modernisiert. Ein schmaler Grat, welcher bei vielen eben eher nach hinten losgeht. Die Truppe hat es aber durchaus verstanden einen guten Mittelweg zu finden, um die alten Fans nicht zu enttäuschen, aber auch neuere Death Metal Recken für sich zu aktivieren. Das mächtige Erscheinungsbild das man uns hier um die Ohren pfeffert hat seinen unglaublichen Reiz. Nichts wirkt zu sehr überproduziert, aber auch nicht zu unausgegoren. Das golden Händchen mit der die Jungs die Stücke eingestanzt hat ist somit ein gutes. Die Granaten werden kaum unterbrochen und der todesvernichtende Death, wie auch Thrash Metal Anteil in der Bleiladung verfehlt nicht das Ziel. Doch auch die kurzen Ruheparts wurden sinnvoll eingesetzt. Haben etwas vom Anschein der Beschwichtigung, bevor man infernal wieder die nächste Attacke ansetzt. Die Jungs haben den Zahn der Zeit gut erkannt und legen im Genrebereich hier nicht einen x-ten Aufguss im Old School Death Metal, oder gar Göteborg Death Metal auf, nein sie kommen mit vielen Eigeninterpretationen, wie eben ihrer Meinung nach der Death/Thrash Metal zu klingen hat daher. Das Endergebnis und die prächtige Mischung gibt ihnen dadurch mehr als nur recht, denn die Innovation kennt wohl keine Grenzen bei den Schwezern. Groove, Härte, wie auch Melodien sind dichtaneinander gesiedelt zu einer Mischkultur geworden, welche ordentlich beeindruckt.
Fazit: Sauber was uns hier die Schweizer Formation um die Ohren pfeffert. Death, wie auch Thrash Metal Fans neueren, wie auch älteren Datums werden viel Freude mit dem Machwerk haben, denn niemand wird hierbei über bzw. unterfordert.
Tracklist:
01. Greed 03:12
02. Upon All the Others 04:30
03. Fight them Down 03:23
04. Life Is Now 03:43
05. Lost and Dangerous 04:57
06. The Brainless People 05:57
07. For One Short Moment 04:33
08. Face the Enemy 05:15
09. Under Burning Suns 04:30
Besetzung:
Beni Sax (voc & guit)
Stefi Haller (bass)
Martin Haller (guit)
Andy Bieri (drums)
Internet: