Band: GumoManiacs
Titel: Out Of Disorder
Label:  GoldenCore Records/Selfreleased
VÖ: 2014/2015
Genre: Thrash Metal
Bewertung: 4/5
Written by: Robert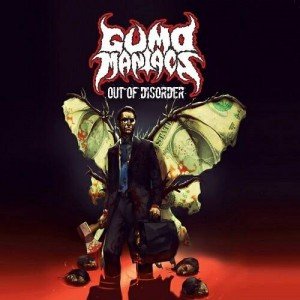 Das Machwerk der bayrischen Thrasher GumoManiacs, "Out Of Disorder" erschien bereits im Mai 2014 via GoldenCore Records. So recht Anklang hat es wohl nicht gefunden, zumindest scheint es so, denn das Machwerk hat niemals, zumindest nicht bis zum jetzigen Zeitpunkt den Weg in unsere Redaktion geschafft. Nun erscheint also das Machwerk erneut, diesesmal in Eigenregie im Dezember aber als Vinyl Edition.
Vinyl Sammler werden sicherlich eine Freude haben, denn die Thrasher gehören definitiv mit ihrem Sound in die Sammlung des Genrefans. Stilistisch verbreiten die Burschen einen Sound irgendwo als Spagat zwischen Bay Area Thrash und urtypischen deutschen Trademarks. Als besonderes Schmankerl bieten sie meiner Meinung nach eine sehr melodische Art und Weise der Vorstellung, diese muss man sich einfach auf der Zunge zergehen lassen. Warum? Nun im Gegensatz zu anderen Thrash Kapellen biedert man sich nicht an, wie der x-te Klon der Thrash Metal Helden zu klingen. Vielmehr bauen die Jungs auf eine sehr eigenständige Art und Weise des gezockten Genres. Dies bedeutet dass man wohl Einflüsse der Frühära hat, aber sich nicht anschickt eben zu klingen wie der hunderttausendste Versuch Exodus, Kreator und Konsorten zu kopieren. Dies ist quer durch den Output rauszuhören und mach viel Laune. Dadurch ist eben den Jungs ein guter Griff für die Thrash Metal Innovation gelungen und knallt gewaltig.
Die guten Melodieunterwanderungen und knackigen Breaks sind ein Garant für eine gute Unterhaltung in jedem Thrash Metal Haushalt. Was eben eine gute Erweiterung ist, ist die Vielzahl der geschmackvollen Granaten und das macht das Konzept zu keinem Zeitpunkt langweilig. Weiters ist man stets bemüht Old Schooler, wie auch Fans des neueren Thrash fürs sich zu begeistern. Finde ich mehr als gelungen, denn die Jungs sind niemals stupide am Spielen und zaubern eben viel Facettenreichtum im Genre in die heimischen vier Wände.
Egal ob nun auf CD oder Vinyl, die bayrischen Thrasher sollten nicht unerhört werden und bieten einfach einen sehr breiten Klang, welcher amtlich die Bude zum Beben bringt. Thrash Maniacs müssen hier definitiv zugreifen, denn die gut durchdachten und ausgefeilten Nummern haben einen ganz besonderen Charme.
Fazit: Gekonnter Thrash Metal der eine gute Melange aus Bay Area und urtypischen German Thrash Metal bietet. Niemals anbiedernd sondern stets mit viel Eigenständigkeit behaftet, haben die Jungs eine enorme Lawine vom Stapel gelassen. Das verdient nicht nur Respekt, sondern einfach das Hören und supporten dieser Formation.
Tracklist:
01. Exhausted Heart 03:04
02. Broken Dreams 02:53
03. Echnaton 05:49
04. Out of Disorder 04:01
05. Poetry in Black 04:06
06. Weight of Words 04:29
07. Paranoia 02:48
08. World Undead 02:59
09. John Rambo 03:28
10. Final Curtains 10:10
Besetzung:
Daniel "Gumo" Reiß (voc & guit)
Robert "Hubi" Hofmann (bass)
Michael "Air" Hofmann (drums)
Michael "Fuck" Pusch (guit)
Internet: