Band: Hard Tension
Titel: Fear and Guilt
Label: Self-Released
VÖ: 2014
Genre: Power-Metal
Bewertung: 2,5/5
Written by: Lazer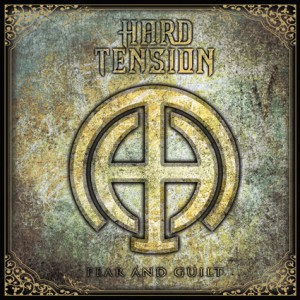 Portugal im Jahre 2011 – die Formung der Band Hard Tension wird besiegelt.
Die Mannen rund um Gitarrist und Bandbegründer Paulo Santos wollten klassischen Heavy Metal mit schnellen Gitarrenriffs und klassischer Musik vereinen. Klingt irgendwie komisch, ist es auch…zumindest beim Ersten Mal hinhören.
Zugegeben, es dauerte schon eine gewisse Zeit, bis man sich auf den Stil von Hard Tension einlassen kann, und diese eher etwas schwere Kost verdauen kann – kann man das Material von Fear and Guilt doch nicht wirklich total charakterisieren, beziehungsweise irgendwo einordnen.
Und hier beginnt die interessante Reise. Eine Reise, begleitet von treibenden Drums, knallharten Gitarrenriffs, Keybords und einem richtig röhrendem Sänger. Die Gitarrensolis sind eigentlich einwandfrei und machen richtig Spass. Stimmlich kann man sich über Migas Magalhaes absolut nicht beschweren, und vom Bass und den Drums kann man genauso sehr begeistert sein. Hard Tension vereint ganz gute Komponenten hier auf Fear and Guilt. Jedoch schaffen sie es meiner Ansicht nach nicht, dies zu einem homogenen Gesamtpaket zu schnüren.
Klar haben die Portugiesen ihren eigenen Stil, ihre eigene Linie und drücken den fünf Songs absolut ihren eigenen Stempel auf. Aber teilweise wirkt das Ganze dann doch noch etwas unausgereift, in den Kinderschuhen steckend.
Mein Fazit: Hard Tension zeigen sich auf Fear and Guilt durchaus bemüht, können aber nicht wirklich überzeugen. Potential ist vorhanden, jedoch könnte man an den Gesamtarrangements der einzelnen Tracks noch etwas feilen.
Tracklist:
01. Serenade Of Fall
02. Harder Faster
03. Fear And Guilt
04. Heading For The Light
05. Lords Of Salem
Besetzung:
Paulo Santos – Guitar
Migas Magalhaces – Vocals
Carlos Luz – Bass
Tiao Costa – Drums
E. Nunes – Keybords (Guest)
Internet: