Kari Rueslåtten – Silence Is The Only Sound
Band: Kari Rueslåtten
Titel: Silence Is The Only Sound
Label: Spindelsinn Recordings/Øra Fonogram/Rough Trade
VÖ: 25.08.17
Genre: Rock/Pop/Folk
Bewertung: 5/5
Written By: Robert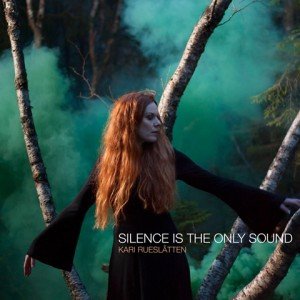 Kari Rueslåtten gilt als eine der liebreizendsten Stimmen im alternativen nordischen Folk-Pop und sie ist die norwegische Königin der Melancholie. Das Gründungsmitglied der progressiven Doom Metal Band The 3rd and the Mortal, hat nun ihr neues Album "Silence Is The Only Sound" in der Hinterhand. Seit ihrem Ausscheiden bei The 3rd and the Mortal im Jahr 1995 hat Rueslåtten bis jetzt sieben Solo-Alben veröffentlicht, wo sie makelloseste Klangkunst vorwies und man schlichtweg abseits des Metal an sich gebannt vor dem Player verharrte und dem Reigen der Norwegerin lauschte.
Frau Rueslåtten zieht erneut eine warm wohlige Wolkendecke in unsere heimischen Wände und die gewobenen Allüren kommen gemütlich und wohltuend ins Gehör. Gemächlich entspannend lehnt man sich mit seinem favorisierenden Lieblingsgetränk zurück und lässt sich von dieser geballten Ladung an liebevoller Melancholie die Seele pinseln. Gesanglich kommen wirklich nur wenige Sängerinnen an die Klasse der Erscheinung von Kari ran, eventuell wäre als starke Konkurrenz die in Bosnien geborene Adna Kadic zu nennen. Nicht unähnlich fungieren beide Künstlerinnen mit ihrer Klangfacette. Wie erwähnt, es ist nicht Metal oder Rock im Gegensatz dazu eine Folk Interpretation, welche insbesondere eher den Rock und Metal verliebten ansprechen wird. Denn für einen Mainstream Markt ist dies nichts, hier gelten noch Überzeugungsarbeiten und kein pushen eines großen Labels oder Promoters im Rücken.
Dass man stellenweise zittert, wenn Kari mit voller Inbrunst ins Mikro trällert, ist eine wohltuende Sache und man ist gebannt vom Klang, welcher voll und ganz im ruhigen Soundkleid daherkommt. Mit viel Aufmerksamkeit zieht man in einen endlosen Bann, welcher sich von feinfühlig bis zartbesaitet zur Beruhigung der innersten Seele aufgrund beschissener Alltagssituationen eignet.
Auf romantische Weise taucht man in die Welt des akustischen Folk, mit viel Melancholie ab und vertieft sollte man nicht vergessen den Wecker zu stellen, ansonsten ist man von dieser norwegischen Sirene endlos gefesselt. Mit Elfen gleicher Überzeugungsarbeit hat sich Mrs. Rueslåtten selbst übertroffen und bietet ein klangliches Epos mit zeitlosem Niveau.
Fazit: Das nunmehr siebte Soloalbum der Norwegerin überwindet abermals alle Hürden und Grenzen. Die norwegische Königin der Melancholie ist zurück und wie!
Tracklist:
01. Believer
02. Chasing Rivers
03. Spellbound
04. Gone
05. The Harbour
06. As Evening Falls
07. Saviour
08. Music You Should Hear
09. The Parting (Shine A Light)
10. Silence Is The Only Sound
Besetzung:
Kari Rueslåtten (voc)
Internet: