Band: Kilmara
Titel: Love Songs And Other Nightmares
Label: Sony Music
VÖ: 08. April 2014
Genre: Melodic Metal
Bewertung: 3/5
Written by: Lazer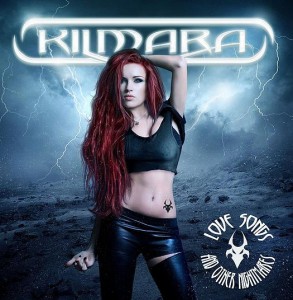 Die 2003 gegründete spanisch-deutsche Melodic Metal Band Kilmara präsentierte im April 2014 ihr drittes Werk namens Love Songs And Other Nightmares.
Gleich voller Energie und Power starten die Jungs. Energie und Power zieht sich durchs komplette Album. Treibende Drums und bebende Bässe bestimmen genauso das Klangbild wie eingehende Melodien und filigrane, sehr ausgefeilte Soli. Mit zwölf Songs und einer Spielzeit von gut einer Stunde ist man hier auch ganz gut dabei. Die Arrangements sind ziemlich durchdacht und aufwendig. Die Vocals sind genrespezifisch punktgenau, aber nicht weltbewegend. Ein klein wenig störend sind teilweise die Sprecheinlagen. Alles in Allem hat man beim Hören von Love Songs And Other Nightmares das Gefühl, dass es genau soetwas schon gefühlte 1 Million Male gab. Richtig innovativ und kreativ ist das Ganze dann doch nicht, wenngleich Kilmara technisch top ist, keine Frage.
Mein Fazit: Kilmaras neues Werk klingt recht gut, jedoch vermisst man irgendwie das gewisse Etwas. Man beherrscht die Instrumente und kann singen, aber der Funke will nicht so recht überspringen.
Tracklist:
01. Fantasy
02. Devils Eye
03. The Break Up
04. Cold Rain
05. Believe
06. Nothing To Me
07. Usual Strangers
08. Alpha
09. Insomnia
10. Play To Win
11. Time Flies
12. Time Flies (German-Spanish Version)
Besetzung:
Christian Wolfgang Kohl – Vocals
Jonathan Portilo – Guitars
Kike Torres – Guitars
Raúl Ruiz – Bass
Javier Morillo – Drums
Internet: