Band: Lightning
Titel: Road to Ninja
Label: Sonic Revolution
VÖ: 04.09.15
Genre: Heavy/Power Metal
Bewertung: 3/5
Written by: Robert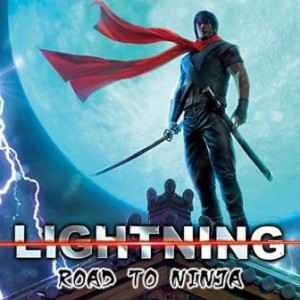 Erst jüngst hatten wir innerhalb der Redaktion eine heftige Diskussion aufgrund der Verwurstung des japanischen Metals durch Babymetal. Nun Lightning sind definitiv nicht ein Baby oder gar grün hinter den Ohren, auch wenn sie an sich erst seit 2004 existieren.
An sich deswegen, weil sie doch sehr reife und gute Vorreiter haben. Denken wir mal an Double Dealer, Concerto Moon oder die Legendären X-Japan, als auch Loudness. Wer die Truppe bis dato noch nicht kannte, als auch keine Möglichkeit hatte sich die Alben zuzulegen, für den veröffentlichen Sonic Revolution die Kompilation "Road To Ninja". Was für ein glorreicher Name für eine japanische Band. Generell kokettieren die Burschen sehr gerne mit diese Thematik.
Was erwartet einen bei solch einer Formation aus dem Land der untergehenden Sonne? Ja ich sag es mal so die Neuerfindung vor dem Herrn sind die Jungs nicht. Ihr Stil ist sehr arg geschwängert aus dem Double Dealer und Concerto Moon Lager. Dazu noch etliche Hyperspeed Attacken aus dem Dragonforce Lager und fertig ist das Gemisch. Klingt an sich nicht wirklich Innovation oder gar originell. Stimmt auch so, aber der Sound der Truppe geht durchaus locker ins Gehör.
Die Melange tendiert irgendwo zwischen hyperspeed artigen Gemischen und Mixturen des melodischen Power Metal, dazu noch einige hymnische Ausreiter, wie auch leicht klassischere Heavy Metal Einlagen. Der Sound, wüsste man es nicht wirklich lässt sofort die Einstufung in den japanischen Raum und nichts anderes zu. Da hätte ich nicht mal einen Beipackzettel gebraucht.
Braucht man genau deswegen diese Zusammenhäufung der Songs? Nun ja, wer sich vermehrt mit dem Metal aus dem Land der untergehenden Sonne beschäftigen will, macht mit dieser Kompilation nichts falsch. Persönlich finde ich es als Tropfen auf dem heißen Stein, denn Concerto Moon, sowie Double Dealer lassen noch auf sich warten, auch wenn im September ein neues Eisen der erst genannten Truppe folgen soll.
Fazit: Durchaus netter Power Metal aus Japan. Nicht wirklich weltbewegend, aber auch nicht schlecht. Ein sauberes Mittelding, dass man sich aber nur als astreiner Japan Metal Fan antun sollte.
Tracklist:
01. Man of Men
02. Raise the Sun
03. Thousand Fields
04. Destiny Destination
05. Save the Truth
06. Far Away
07. Stand Alone
08. Heavy Metal (Of Destiny)
09. Soldier Force
10. Sail Away
11. Raise the Sun (Japanese Version)
Besetzung:
Mihashi Bass (bass)
Giga Thrasher (drums)
Kouta (guit)
Hiroyas "Iron" Chino (guit)
Yuuma (voc)
Internet: