Band: Max Navarro
Titel: Somewhere South Of Heaven
Label: AW Recordings
VÖ: 14.03.16
Genre: Rock
Bewertung: 4/5
Written by: Robert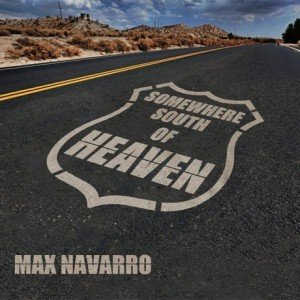 Max Navarro Namensgeber und Mastermind der gleichnamigen Band rockt mit "Somewhere South Of Heaven" weiter. Die in Vancouver Kanada beheimatete Truppe nährt von ihrem Standpunkt, Rock muss erdig, mit sehr vielen Southern Elementen, sowie kernigen modernen Einlagen klingen. Irgendwo zwischen den alten Gassenhauern Bon Jovi, Bruce Springsteen und Bryan Adams beheimatet machen die Kanadier eine Mischung, welche sicherlich massentauglicher klingt, aber eben nicht vor dem totalen Ausverkauf steht.
Nicht dem Mammon, sondern der Musikkunst hold wird eine sehr fachmännisch gut aufbereitete Rockrunde zelebriert, bei welcher der solide Einklang, wie auch etwas Partystimmung niemals zu kurz gehen darf. Dieses Melangekonzept gibt den Jungs durchaus recht und so verwundert es kaum, dass die Stücke sicherlich etwas lockerer ins Gehör gehen, aber von einer mächtigen Begleiterscheinung zehren. Der Groove den man hier den Rockstücken verpasst hat geht gekonnt ins Gehör und weißt eben sehr viel Wiedererkennungswert auf.
Teils sehr radiotaugliche Songs lockern das Konzept etwas auf, wenngleich man solche Songs eher in Amerika spielt als bei uns. Teilweise komme ich nicht drum herum die Jungs als etwas rockigere, klarere Version von Brantley Gilbert zu sehen. Wie auch dieser Counrty Rock Barde, haben auch Max Navarro eine ähnliche Mischung angestrebt. Klingen aber eben wesentlich klarer und nicht so dreckig wie ihr Kollege aus dem Süden.
Die breite Palette und die Stimmungsparameter des Rocks sind gut gewählt worden und gehen einfach gelungen ins Gehör. Viele Faktoren des Rocks wurden gelungen zu einem mehr als tollen Gesamterscheinungsbild zusammengezaubert und das weiß durch die Bank langanhaltend zu unterhalten.
Fazit: Kunterbuntes Rock Potpourri, welches amtlich aufgemacht wurde. Viele shakige Parts und Arrangements wissen den Partyfaktor anzufachen, aber auch etwas nachdenklichere Songausrichtungen geben den Jungs für ihr Mixkonzept recht.
Tracklist:
01. Nine Flares
02. Sick Sentimental Plans
03. All Over With You
04. Somewhere South Of Heaven
05. Hollywood
06. Saturday Night
07. Stay
08. Come What May
09. Bad Day
Besetzung:
Max Philip Navarro (voc & guit)
John Paul Bellucci (guit)
Nick Mayer (keys)
Alex Parpinel (drums)
Danny Polìcella (bass)
Internet: