Band: Mutank
Album: W.H.A.T.S.T.H.A.T.
Label: Boonsdale records
VÖ: 16.06.17
Genre: Crossover Thrash Metal
Bewertung: 3,5/5
Written by: Jasmin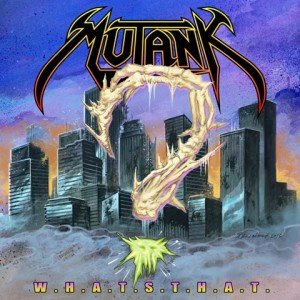 Mutank, die 2013 ein Demo und ein Jahr darauf gleich ein Full Length Album – "M.E.C.H. Metal", was für Middle East Coast Heavy Metal steht – veröffentlicht haben, ist eine Zusammenführung der Wörter "Mutant", das die Thrash Metal Ästhetik darstellen und "Tank", was ganz unmilitärisch gedeutet einfach rohe Kraft zum Ausdruck bringen soll.
Außerdem ist Mutank auch der Name eines Verdampfers für E-Zigaretten, dies wissen die Kanadier aber ganz bestimmt und finden es vermutlich auch noch toll.
Der volle Titel der nun erschienenen EP lautet übrigens "We Have Alotta' Thrash Songs That Have Abbreviated Titles", was ich für unglaublich einfallsreich und eine sehr spaßige Idee halte, auch sind die Lieder selbst sehr kurz gehalten da sie dazu gedacht sind als ein einzelner Progressive Thrash Song gehört zu werden.
Die Musik klingt so als wäre sie am Thrash der 90er angelehnt, dies ist zwar nichts Schlechtes aber im Vergleich zur Originalität des "Drumherums" nicht gerade erfinderisch. Die Band besteht wohl durch und durch aus sehr talentierten Musikern aber sogar die Stimme des Sängers klingt auswechselbar.
Das Sammeln von Bandinfos war in diesem Fall leider um einiges spannender als das Anhören ihrer Musik, für Fans des Genres ist es aber ganz bestimmt eine erfrischend-amüsante Entdeckung.
Tracklist:
01. L.I.F.E.
02. I.D.I.O.T.
03. P.O.P.U.L.O.U.S.
04. F.O.G.
05. D.E.A.T.H.
Besetzung:
Stephen Reynolds – Vocals/Bass
Ahmed Daas – Drums
Costa Skoulikas – Guitar
Chris Nasty – Guitar
Internet: