Band: Narcotic Self
Titel: Cut the Chord
Label: Narcotic Self
VÖ: 06.05.2016
Genre: Heavy Metal/Thrash Metal/Death Metal/Alternative Rock
Bewertung: 4/5
Written by: Peter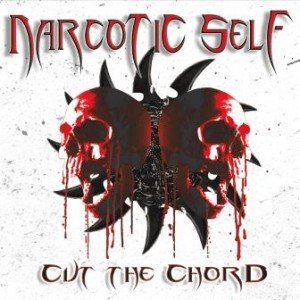 Ehrlich, als ich die neue CD Cut the Chord der US-amerikanischen Metaller von Narcotic Self in den (heutzutage nur mehr virtuell vorhandenen) CD-Player verfrachtete, habe ich nicht allzu viel erwartet. Die Promoschreibe verspricht einen wilden Ritt zwischen groovendem Thrash, melodischem Todesmetall und Rock. Das klingt schon sehr anspruchsvoll und nicht ganz leicht einlösbar. Als dann aber die CD losbollerte, war mir bald klar, dass die Mannen aus den US of A mit diesem Motto ernst machen.
Man kann sich unter ihrer neuen Scheibe eine durchgehend homogene Mixtur aus Machine Head- und Pantera-Gedächtnisriffing, Stockholm-Todesblei der Marke Soilwork oder At the Gates  und klar gesungenem sowie melodieorientiertem Alternative-Rock vorstellen. Und das macht nicht nur alleins schon daher Sinn, dass sich Björn "Speed" Strid von eben Soilwork bei der Nummer drei des Albums, dem Song "Generation Victim", zu den Burschen ins Studio gesellte. Geil!
Das klingt nun nach einer ganzen Menge an stilistischem Holz, das die Jungs auf einem Rundling unterbringen wollten. Aber, und das ist das eigentlich überraschende, das gelang ihnen tatsächlich. Es gibt beinharte Thrash-Momente, aggressives Shouting und Growling, aber auch tollen Klargesang und Gitarrenmelodien, die die Rockphasen ihrer Mucke auszeichnen. Das Ganze wurde in acht Songs verpackt, die oft einen Akzent fokussieren, teils aber auch die Stile gekonnt verweben. Hut ab für den Mut, der dahinter steckt! Alles in allem, klingt dieser Text wohl nach einem kleinem Meisterwerk; warum ich dann dennoch "nur" vier von fünf Zählern in der Wertung auspacke, liegt daran, dass die Songs zwar alle ordentlich pfeifen oder melodisieren, dann aber die ganz großen Über-Songs und -momente, die dauerhaft fesseln, fehlen. Auch der Innovationsgrad, quasi einen musikalischen Kessel Buntes der harten Musik zu organisieren, spricht nicht für die Höchstwertung. Aber das kann ja noch kommen!
Tracklist:
01. Cut the Chord
02. Toxic Terrorizer
03. Generation Victim (feat. Björn "Speed" Strid of SOILWORK)
04. Hell in my Head
05. Creeper
06. Addicted to Skin
07. Brainslave
08. Dream State
Besetzung:
Jesse Dean – Vocals/guitar
Derrick Adkins – Bass
Geddy Johnson – Drums
Narcotic Self im Internet:
Narcotic Self Official Homepage