Band: OVERSENSE
Titel: THE STORYTELLER
Label: Dr. Music Records
VÖ: 12.05. 2017
Genre: Melodic Power Metal
Bewertung: 5/5
Written by: Maze P.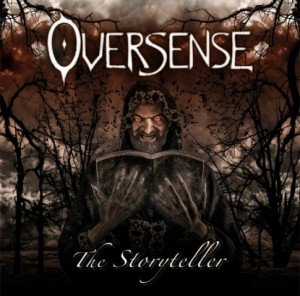 Die aus Deutschland stammende Formation existiert seit etwa 2012 und veröffentlichte bisher eine EP mit Namen "Dreamcatcher" aus dem  Jahre 2014. Und sogleich nach der Veröffentlichung ebendieser begannen auch schon die Arbeiten am neuen Album "The Storyteller", dass mir in die Hände gespielt wurde und ich mit Begeisterung in mich aufgesaugt habe. Die junge Band aus Unterfranken hat sich mit den Produzenten Olaf Reitmeier (Avantasia, Kamelot, Epica) und Miro Rodenberg (Edguy, Brainstorm, Rhapsody Of Fire) zusammengetan, und sogar Sascha Paeth, Starproduzent und Gitarrist von Avantasia, hat sich mit einem Solo im Song "Wild Hunt" verewigt. Genug an Namedropping ist ja jetzt vorhanden. Wie sieht es nun mit der Mucke aus?
Ich fasse mich mal kurz. Das Debüt-Album "The Storyteller" wurde fettest produziert, das Songwriting ist vom feinsten, die orchestralen Parts klingen pompös und die Lyrics sind geniale Geschichten, zusammengefasst in ein Konzeptalbum. Die Stimme(n) klingen hervorragend und runden ein wirklich geniales Album sauber ab.
Was ist hier gegeben: Naja, harte bis zarte Metal Riffs, gepaart mit genialer Stimme, die zum Mitsingen anregen und sich dadurch einfach GROSSES KINO ergibt. Abwechslungsreichtum ist mehr als genug vorhanden, aber immer schön dem roten Faden nach, ohne viel zu experimentieren, zumindest glaubt dies der Hörer. Einfach ein Album für die Masse und das Ohr. Experimente sind wohl vorhanden, aber immer schön angenehm eingesetzt.
Oversense mit "The Storyteller" – Ein Album, dass die Metalwelt braucht. Und Punkt. Daumen hoch! Rock on
Tracklist:
01. Forgotten Tales
02. Wild Hunt
03. Mr. Mackie's Chase For Love
04. Purgatory
05. Sally
06. We're Gonna Bring You Thunder
07. Phobia
08. Last Goodbye
09. The Heart Begins To Shiver
10. When The Undead Rise
11. Through The Panther's Eyes
12. Bonus Track: Big Bang
Besetzung:
Danny Meyer – Gesang, Gitarre, Keys
Marcel Winkler – Gitarre
Marco Volpert – Gitarre
Lisa Geiß – Bass
Patrick Lippert – Drums
Internet: