Band: Pain Of Salvation
Titel: In The Passing Light Of Day
Label: Inside Out Music
VÖ: 13.01.17
Genre: Progressive Metal
Bewertung: 5/5
Written by: Robert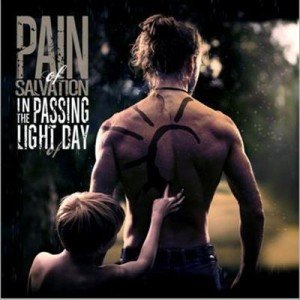 Die Schweden Pain of Salvataion gehören seit ihrer Gründung im Jahr 1984 zu den Progressive Rock/Metal Göttern schlechthin. Man hat sich und dies muss man wohl oder übel zugeben, beharrlich den vorherrschenden Soundelementen der Jetztzeit zugewendet und diese einfach Eigenprogressiv umgesetzt. Der Erfolg mit solch einer Taktik gab ihnen immer recht, und auch beim neuesten Werk darf man sogleich verlauten, dass man es abermals schafft. Im neuen Jahr wesentlich Alternative lastiger veranschlagt. Dies passt aber wie die Faust aufs Auge und das Gehör bekommt hier ein musikalisches Kopfkino präsentiert, welches einen aus den Latschen kippt.
Die drei Jahre Wartezeit von "Falling Home" bis zum neuesten Release hat man wahrlich auf Gedeih und Verderb genutzt. Selten bekommt man solch eine perfektionierte Progressive Scheibe präsentiert und kommt davon nicht los. Man hängt gebannt vor dem Player, da die musikalische Geschichte, die uns hier das Hören versüßt, sich ansprechend als total spitzfindig erweist. Die klassischen Progressive Elemente, sowie klassischen Rock/Metal Elemente harmonisieren ausgezeichnet mit den Alternative Metal Fragmenten. Die stets abgehaltene Berg und Talfahrt vollzieht man als Hörer mit einem Gaudium der Sonderklasse. Was Pain Of Salvation klanglich zu bieten haben, ist für Fans ihrer Spielart ein Hochgenuss und das muss man sich mehrmalig auf der Zunge zergehen lassen. Ob nun mit rhythmisch verschrobenen, so gemächlichen Gangarten der klaren Art und Weise, die Stücke haben ein Konzept intus, welches einen komplett vom Hocker wirft.
Die Kompositionen sind anziehend und das wahrscheinlich göttlichste was man im Bereich des Genres abliefern kann. Damit wird man dem Satus als Progressive Gott allemal gerecht. Da braucht es keine Justierschrauben, denn die Schweden haben dies perfekt umgesetzt und da greift jedes Rädchen pressgenau in das andere. Dieses Klangkino mach ständig Spaß und dies für einen sehr langen Zeitpunkt.
Fazit: Pain Of Salvation sind und bleiben, Progressive Götter, und dies unterbreiten sie mit dem neuen Rundling von neuem. Perfekt in Szene gesetztes Klangkino das man süchtig aufsaugt. Jeder Gottverdammte Track bohrt sich wie ein Virus ins Gehirn.
Tracklist:
01. On a Tuesday (10:22)
02. Tongue of God (04:53)
03. Meaningless (04:47)
04. Silent Gold (03:23)
05. Full Throttle Tribe (09:05)
06. Reasons (04:45)
07. Angels of Broken Things (06:24)
08. The Taming of a Beast (06:33)
09. If This Is the End (06:03)
10. The Passing Light of Day (15:31)
Besetzung:
Daniel Gildenlöw (voc, guit, lute, additional keys, additional bass, additional drums and percussion, accordion, zither)
Ragnar Zolberg (guit, voc, additional keys, samplers, accordion, zither)
Daniel D2 Karlsson (grand piano, upright, keys, back voc)
Gustaf Hielm (bass, backing voc)
Léo Margarit (drums, percussion & backing voc)
Internet: