Band: Sanctuary
Titel: The Year The Sun Died
Label: Century Media/EMI
VÖ: 2014
Genre: Power Metal
Bewertung: 3/5
Written by: Lex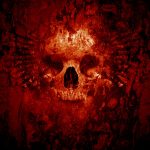 Warrel Dane und (fast) die ganze alte Besetzung finden sich nach einem Vierteljahrhundert doch noch einmal unter dem Banner SANCTUARY zusammen um Album Nummer drei aufzunehmen.
Ums kurz zu machen, erwartet lieber kein Album in Richtung der beiden Großtaten von damals. Die geniale, ansteckende Power von Songs wie "Future Tense" sucht man auf "The Year the Sun Has Died" nämlich absolut vergebens. Überhaupt klingen SANCTUARY anno 2014 eher nach einer Fortsetzung von NEVERMORE und Warrel Dane solo. Man ist nicht das ungebändigt riffende Kraftpaket von einst, sondern eher ein schwerer Brocken vollgesogen mit Melancholie und Düsternis. Dasselbe gilt für die Performance an den Vocals durch Warrel Dane, die schließlich einen nicht gerade unbeträchtlichen Anteil an der Durchschlagskraft der Bandklassiker hatten. Natürlich ist die Zeit nicht stehen geblieben, man entwickelt sich weiter blablabla & yadda yadda yadda… Man kann aber durchaus erfolgreich auch nach langer Zeit erfolgreich zu seiner eigenen Ursuppe zurückfinden, ich sag da nur "Black Sabbath" und "13".
Ich will "The Year The Sun Died" nicht schlecht machen, speziell der Opener "Arise and Purify" hat durchaus seine Qualitäten. Auch "Question Existence Fading", "Let The Serpent Follow Me" oder der abschließende Titelsong wissen zu gefallen. Aber abgesehen davon, dass es stilistisch einfach nicht SANCTUARY ist, sind die aktuellen Songs nur interessant mit Wachstumspotential, während die alten Sachen vom ersten Moment an fesselnd  und mit Ewigkeitspotential ausgestattet waren.
Tracklist:
01. Arise and Purify
02. Let The Serpent Follow Me
03. Exitium (Anthem of the Living)
04. Question Existence Fading
05. I Am Low
06. Frozen
07. One Final Day (Sworn to Believe)
08. The World is Wired
09. The Dying Age
10. Ad Vitam Aeternam
11. The Year the Sun Died
Besetzung:
Warrel Dane (Vocals)
Lenny Rutledge (Guitars)
Jim Sheppard (Bass)
Dave Budbill (Drums)
Brad Hull (Guitars)
Internet: