Band: Status Quo
Titel: Last Night Of The Electrics
Label: Earmusic (Edel)
VÖ: 14.07.17
Genre: Rock/Hard Rock
Bewertung: ohne Bewertung
Written by: Robert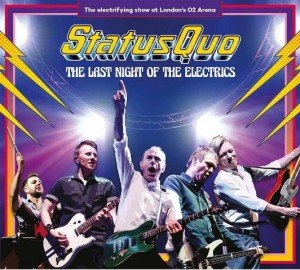 Totgeglaubte leben immer länger. Eine Combo, welche stets bewies, dass man auch breitere Massen für den Rock begeistern kann und nichtsdestoweniger nicht vor dem Ausverkauf steht sind Status Quo. Erst jüngst musste man den Tod von Gitarrenlegende Rick Parfitt († 24. Dezember 2016) verkraften, trotzdem wären die Jungs nicht Status Quo, wenn man nicht seinem verstorbenen Mitglied ein Lebenszeichen hinterlässt. Kein reguläres Album, wie von mir eigentlich erwartet, sondern ein Live Epos, welches auf den Namen "Last Night Of The Electrics" hört. Der Mitschnitt eines Konzerts der gleichnamigen Tournee im Herbst und Winter 2016 genauer gesagt vom Konzertabend in der Londoner O2-Arena am 11. Dezember stammen die Live Songs.
Alte Hasen, doch diese können noch rocken scheint nicht bloß bei Leidgenossen Deep Purple ganz dick in der Visitenkarte zu stehen, nein nach wie vor rocken Status Quo gehörig die Welt und unterbreiten den begeisterten Massen des Stadion Rock.
Was die Live Aufnahmen betrifft, haben die Jungs von der Insel nicht viel nachgearbeitet und so ist ein guter authentischer Live Faktor entstanden. Beinharte Fans der Band seien versichert, dieses Live Epos gehört in eure Sammlung, egal ob auf CD oder Vinyl, bekanntermaßen frischer werdet ihr die Jungs nicht als Live Dokument zu hören bekommen. Diese Energie von diesem Konzertabend sprudelt über und folgendermaßen sieht man sich zwangsläufig beim Mitverfolgen von "Last Night Of The Electrics" an diesen Abend versetzt und beklatscht nicht nur eifrig jedes Stück, nein vielmehr schwingt man urplötzlich das Tanzbein und pogt zu den Songs im Schunkelrhythmus mit.
Dieser energetische Pogo wird durch die Briten aufrechterhalten und man bekommt viel Laune fürs Gehör. Wer die dazugehörige Tour verpasst hat sollte nicht lange überleben, denn ansteckendes Flair in musikalischer Form ist das Gebot der Stunde.
Die Rockglocken bimmeln gewaltig und Status feuern aus allen Rohren und kein einziger Gassenhauer wird dabei vermisst. Das Flair und die Bombenstimmung des Abends haben die Briten gut eingefangen und dementsprechend darf man sich Querfeldein mit diesem Live Epos die Party in die heimischen Wände holen.
Tracklist:
CD 1
01. Caroline
02. The Wonderer
03. Something About You I Like
04. Rain
05. Softer Ride
06. The Beginning Of The End
07. Hold Your Back
08. Proposion` Medley
09. Paper Plan
10. The Oriental
11. Creepin`Up on You
CD 2
01. Gerdundula
02. In The Army Now
03. Caveman
04. Roll Over Lay Down
05. Down Down
06. Whatever You Want
07. Rocking All Over The World
08. Burning Bridges
09. Rock And Roll Music/ Bey Bey Johnn
Besetzung:
Francis Rossi (voc & guit)
Andy Bown (voc, keys & guit)
John 'Rhino' Edwards (bass)
Leon Cave (guit)
Internet: