Band: Suidakra
Titel: Realms Of Odoric
Label: AFM Records
VÖ: 20.05.2016
Genre: Celtic Folk/Black Metal
Bewertung: 3,5/5
Written by: Daniel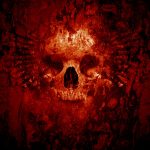 Die Düsseldorfer halten seit ihrer Gründung die Waage zwischen zwar guten, aber eher schunkel lastigen Kapellen wie Wolfschant und Ensiferum und (zumindest ehemals) ernster agierenden Bands wie Eluveitie und Wintersun. Die Aufzählung solch` verschiedener Acts klingt verwirrend, jedoch ist das Spektrum von SUIDAKRA damit noch lange nicht abgedeckt.
Moonsorrow, Mithotyn, Biföst, Skyclad… ich könnte hier noch etliche, an sich unterschiedliche Bands aufzählen, die vor mittlerweile 22 Jahre gegründeten Originale vereinen so einiges in ihrem Sound. Das ist Fluch und Segen, denn während sich der eine über jedes Album freut, schüttelt der andere unverständlich mit dem Kopf.
Ich gehöre zur ersten Gattung, auch wenn REALMS OF CHAOS erwartungsgemäß nicht an Crógacht, Caledonia und Lays From Afar heranreicht, bietet es doch wieder mehr Klasse als das letzte Werk Eternal Defiance.
Hierbei sind vor die allem eingängigen The Hunter's Horde, der mit dezenter Pfeife veredelte Folk Banger Undaunted sowie One Against The Tide oberhalb der Qualitätsgürtellinie und bieten sehr gutes Bangerfutter. Die anspruchsvoller arrangierten On Roads To Ruin und Lion Of Darcania begeistern ebenfalls, das ruhige Braving The End bietet zudem eine schöne Abwechslung.
Dagegen hat das abschließende Cimbric Requiem allenfalls künstlerischen Wert, da er zu uninspiriert wirkt. Das reizt der Digibonus Remembrance dann auch nicht raus.
Insgesamt also immer noch durchwachsen, daher die diskografiebezogene Bewertung. Die Formkurve zeigt aber nach oben, daher sollten Pagan Metal Fans das Album unbedingt anchecken und sich als Hausaufgabe mit dieser tollen Band beschäftigen.
Trackliste:
01. Into The Realm
02. The Serpent Within
03. The Hunter's Horde
04. Creeping Blood
05. Undaunted
06. Lion Of Darcania
07. Pictish Pride
08. On Roads To Ruin
09. Dark Revelations
10. Braving The End
11. One Against The Tide
12. Cimbric Requiem
13. Remembrance (Digipak Bonustrack)
Besetzung:
Arkadius – guitar, vocals, keys, banjo
Jussi – guitar
Tim – bass
Lars – drums
Suidakra im Internet: