THE JANCEE PORNICK CASINO – Solo Adultos
Band: THE JANCEE PORNICK CASINO
Titel: Solo Adultos
Label: GAGARIN BEAT
VÖ: 08/06/18
Genre: Punk/Rock'n'Roll
Bewertung: 5/5
Written by: Robert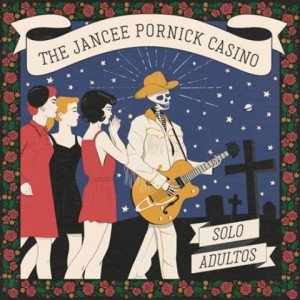 The Jancee Pornick Casino die Band rund um den Exil-Texaner Jancee Warnick aus Köln sowie ein paar andere Exilanten aus Russland sollte der Rock/Punk und sogar leicht Rockabilly Musikliebhaber unbedingt Live sehen beziehungsweise das Material auf Platte besitzen. Persönlich habe ich leider in den letzten Jahren etwas den Draht zu dieser energetischen Combo verloren. Schade, denn die Band hatte mich Live einmal komplett vom Hocker gehebelt, sodass mir am nächsten Morgen nicht nur der Nacken schmerzte, nein jeder einzelne Knochen tat mir aufgrund der Feiermucke weh. Klarerweise ist Material auf Platte und Live eine hinreichend andere Sache. Dennoch, die Songs auf Scheiblette versprühten beharrlich die Energie, welche dann Live von der Truppe rund um Jancee umgesetzt wird.
Erneut greifen Mr. Warnick und seine wilden Russen zum Rundumschlag an. "Solo Adultos" nennt sich der neueste Langstreich von und mit dem sympathischen Exil-Texaner. Wer die Band bis dato noch nicht kannte, dem sei gesagt, das Material ist eine kernige Mischung aus Rockabilly, Jazz, Punk, Country und immer wieder Polka. Exzellent verpackt wird die Rockkeule gehörig rundum geschlagen und zu solch einer Musik kann der Hörer sprichwörtlich nicht ruhig sitzen bleiben. Das umtriebige Treiben auf dem neuen Album ist erneut mit von der Partie und das kommt gut ins Gehör. Leichte Elemente sind erkennbar, welche bei vielen Soundtracks von Quentin Tarantino Filmen ebenfalls vorhanden sind.
Die Herkunft seines Geburtslandes kann der gute Jancee nicht abstreiten, was vor allem bei der Einleitung des Albums lautstark zu hören ist. Breit wird hier eine Masse an galoppierenden Klängen verwendet, welche veredelt mit schwungvollen Rockabilly Elementen zu einem fulminanten Start sorgen.
Bereits hier angesteckt wird der Mischfreund der oben genannten Stilvermischungen viel Freude haben, bekanntermaßen reichlich greift Mr. Warnick tief in die Trickkiste und zusammengemischt in etlichen Genrebanhöfen ist das Sammelsurium freudig vorgetragen eine extrem seltene. Eine eigene Nische hat die Band seit jeher gefunden und das wird abermals prächtig zu Protokoll gebracht.
Die Elemente der Überraschungen werden von den Rabauken bestens genutzt und dabei drehen die Jungs komplett am Rad. Teilweise ist es gelinde gesagt eine Mucke zum vollständigen verausgaben und ausrasten, teilweise wird an und ab kurz die Bremse gedrückt und die Band zeigt sich von einer dreckig-runter ziehenden Seite. Dieses Wechselspiel geht gut miteinander vereint ausgezeichnet ins Gehör.
Fazit: The Jancee Pornick Casino sind erneut auf dem Überraschungsfeldzug und stecken ungemein an. Quer und über den Tellerrand hinaus wird eine toll ausgefeilte Rockmusik im Bereich des Rockabilly, Jazz, Punk und Country geboten.
Tracklist:
01. Cursed
02. I Want You
03. Psycho
04. Corazon
05. Grabbinpussy
06. Tonight I'm Gonna Drink
07. The Rock
08. Los Muertos Vivientes
09. Dirtbomber Of Love
10. Loser
11. 2 Step Hannah
12. Southland
13. Angela These Days
14. El Trueno
Besetzung:
Jancee Warnick (voc & guit)
Avsen Morosov (bass-balalayka & voc)
Chris Slazy (drums & voc)
Steve Iceberg (drums & voc)
Internet:
THE JANCEE PORNICK CASINO Website