Band: THE LEATHER NUN
Titel: Vive la fete Vive la revolution
Label: Sound Pollution
VÖ: 05.05.17
Genre: Garage Rock
Bewertung: ohne Bewertung
Written by: Robert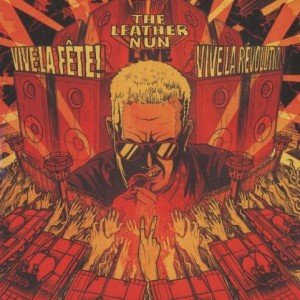 The Leader Non sind so eine Art des Ur-Punk-Rocks aus Schweden. Die aus Göteborg stammende Formation gilt nach wie vor als Geheim-Kult-Truppe, welche ein Gemisch zwischen Rock 'n' Roll und Punk Attitüden der prolligen Art und Weise zelebrierte. Was man in den achtziger Jahren als Schock auf der Bühne abgehalten hat mag eventuell damals noch irgendwem brüskiert haben, heutzutage sind wir da doch ohnehin abgebrühter. Persönlich ist mir kein reguläres Album der Truppe bekannt und wenn ich ehrlich bin, das Sammelsurium auf dem Live-Silberling wird mich definitiv nicht dazu bewegen mir eines zuzulegen.
"Vive la fête! Vive la révolution!"das vorliegende Live Album wurde mit 10 Live Tracks bedacht, welche einfach grottig in Szene gesetzt wurden. Seien wir ehrlich, wenngleich wir in den letzten Monaten einige alte Live Mitschnitte zu hören bekamen von anderen Bands, klang dies in folgender Art und Weise stets gereifter und knackiger, als dass was man hier zu hören bekommt. Der Rumpelsound klingt streckenweise folglich, wie wenn ein Besucher dies aufgenommen hätte. Daraus resultiert ebenfalls eine ausnehmend überdonnerte und übersteuerte Soundpallette, die hier aus den Boxen kommt. Demgegenüber gibt es gewissermaßen bereits von anderen Kapellen besseres YouTube Material von Besuchern von Konzerten. Fragt man sich insgeheim, wollte die Band hier noch den letzten Patzen bzw. Cent des ohnehin seit langem gebeutelten Rockfans aus der Tasche entlocken? Den Anschein hat es zumindest mit diesem Live-Werk.
An sich über den Mischsound könnte man streiten, klingt alles unwiderlegbar Zick-tausendmal gehört und man tendiert irgendwo in einer Fährwasserlinie von langsamen Billy Idol und Konsorten. Somit noch nicht mal hier der unbedingt prickelnde Sound und meine Wenigkeit fragt sich mehr und mehr, wie haben die Schweden bloß diesen Kultstatus erlangt, welchen man im Beipackzettel liest. Scheppernde Songs wohin das Auge reicht und noch dazu eine Live Audienz, welche definitiv mit eingespielt wurde. Dies ist umso deutlich ein Faktor, welches bei Live Alben das um und auf ist, nämlich der authentische Klang. Dieser ist, abgesehen von dem rumpeligen Sound nicht vorhanden und somit kann man dieses Live Machwerk wirklich niemanden empfehlen. Sorry, die Mischung des Rocksounds an sich mag ja nicht schlecht sein, kommt aber mit solch einem Live Album überhaupt nicht überzeugend ins Gehör.
Tracklist:
01. I'm Alive
02. Lust for Love
03. I Can Smell You Thoughts
04. Dance Dance Dance
05. Primemover
06. 506
07. Jesus Came Driving Along
08. A Thousand Nights
09. Fly Angels Angels
10. No Rule
Besetzung:
Jonas Almquist (voc)
Aron Aronsson (guit)
Nils Wohlrabe (guit)
Anders 'Apis' Olsson (bass)
Frederik Adlers (keys)
Gert Claesson (drums)
Internet: