Band: The Road Vikings
Titel: Requiem Of An Outlaw Biker
Label: SLPT Records / Sony (Europe)
VÖ: 22. Februar 2016
Genre: Biker Shred Metal, Euro Power Metal, Hard Rock
Bewertung: 1/5
Written by: Lazer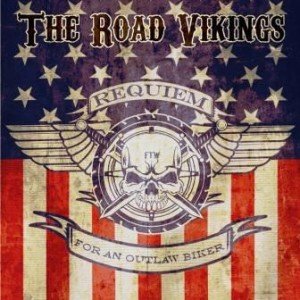 "Requiem Of An Outlaw Biker" nennt sich die neueste Langrille von "The Road Vikings". Keine Sorge, auch ich habe nicht viel in Erfahrung bringen können über diese Band.
Auch wundert es mich immer noch, auf welch abstruse Genrebezeichnungen manche Menschen kommen – jeden Tag werden – gefühlt – fünf neue Genren aus dem Boden gestampft, nur um eine Band, deren Stil man sich nicht so recht zurechtbiegen kann, in eine Schublade zu stecken.
"Biker Shred Metal" oder "Euro Power Metal" nennt man also hier das Genre, das sich jedoch am besten mit dem Überbegriff Metal oder Hard Rock deffinieren lässt, aus meiner Sicht. Ob Motorradfahrer jetzt genau DIESEN Sound bevorzugen, sei dahingestellt.
Zum Album "Requiem Of An Outlaw Biker" jedoch sei zu sagen, dass hier zu viel Wind um Nichts gemacht wird. Aber wie heißt es in der Wirtschaft – die Verpackung muss stimmen – und wir müssen es dem Konsumenten als das verkaufen, das er gerne hätte.
Genau so kommt dieses Album dahergerobbt. Die Produktion ist aufwändig und pompös. Ja, sie ist wirklich gelungen. Jedoch sind es die Songs absolut nicht wert. Man hat hier das Kunststück zusammengebracht, aus ziemlich wenig ziemlich viel zu machen.
Denn hört man genauer hin, sind die Tracks sehr seicht und nichtssagend. Einfachste Melodien und noch einfachere Rhythmik trifft hier auf langweilige Vocals. Es sind keine Höhepunkte vorhanden und die Tracks pletschern so vor sich hin.
Mein Fazit: "Requiem Of An Outlaw Biker" kann absolut nicht überzeugen und verschwindet nach einmal hören im Müll. Sorry, aber außer heißer Luft, wird hier nichts geboten. Ein weiterer Werbegag der Musikindustrie aus Amerika.
Tracklist:
01. I Burn In Hell
02. The Ballad Of Evel Knievel
03. The Road To Valhalla
04. Requiem Of An Outlaw Biker
05. Black Magic Nights
06. Full Moon
07. Live To Ride
08. Lovebound
09. Emergency
10. Headwind
Besetzung:
Dan Bryant – Vocals, Lead Guitars, Harmonica
Brian Rountree – Guitars
List Tonra – Bass, Vocals
Jimmy Wells – Drums
Internet: