THE SPIRIT – SOUNDS FROM THE VORTEX
Band: THE SPIRIT
Titel: SOUNDS FROM THE VORTEX
Label: Eternal Echoes
VÖ: Oktober 2017
Genre: Black Metal
Bewertung: 4,5/5
Written by: Dr. Maze Pain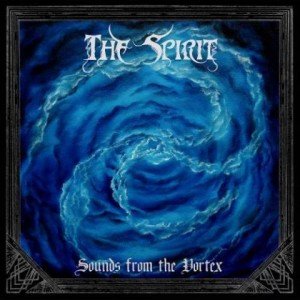 Die aus Saarbrücken, Deutschland stammende Formation wurde 2015 gegründet und liefert nun 2 Jahre später ihr Debütwerk "Sounds From The Vortex" ab. Die Jungs, derzeit noch äußerst unbekannt (das wird sich sicher baldigst ändern!),  lassen dieses Werk als CD und Download auf die Menschheit  über Eternal Echoes los und wie schon der Name der CD sagt, wird die CD für einigen Wirbel in der Genre-Szene sorgen. Da bin ich mir sicher. Das Album wurde aufgenommen, gemixt und gemastert in den bekannten Iguana Studios, das Artwork wurde von WAEIK gestaltet und die Band selbst sagt über ihren Sound: Jede Note auf diesem Album kommt aus unserem tiefsten Inneren. Ja, das kann man so stehen lassen.
Musikalisch handelt es sich bei THE SPIRIT um Black Metal mit Null Eigenständigkeit. Aber in diesem Fall ist das gut so. Den alten Helden des Black Metal wird hier gehuldigt. Und das in einer Form, die ihresgleichen sucht und wahrscheinlich lange nicht gefunden werden wird. Ich fühle mich in die 1990er Jahre zurückversetzt, als der Black Metal noch Sinn machte und eben "No Fashion" war. Dunkel, Athmosphärisch, grimmig und brutal. Bands wie Dissection (zu ihren guten Zeiten), Dark Funeral oder Sacramentum verbergen sich auf dem Silberling und "Sounds from the Vortex" könnte das Fortsetzungsalbum (das verdammt Gute) eben dieser Bands sein, denn obwohl das Songwriting ganz klar den 1990er Black Metal widerspiegelt, ist die Produktion eher in der Moderne angesiedelt.
Somit hat die Band eine Brücke zwischen früher Werke und Moderne erschaffen über die es sich auf jeden Fall lohnt zu gehen. Und wer einen Nachfolger zu "Storm of the Light´s Bane" sucht, der kann hier bedenkenlos zugreifen! Ich bin begeistert. Von jedem der 7 Stücke. Kurzweilig und rasant. Daumen hoch! Rock on.
Tracklist:
01. Sounds from the Vortex
02. Cosmic Fear
03. The Clouds of Damnation
04. Cross the Bridge to Eternity
05. Illuminate the Night Sky
06. The Great Mortality
07. Fields of the Unknown
Besetzung:
MS: Drums
AK: Guitars
MT: Guitars, Vocals (2015-present)
AT: Bass (2016-present)
Internet: