Band: Tulsadoom
Titel: Storms Of The Netherworld
Label: Nihilistic Empire Records
VÖ: 30.06.15
Genre: Blackened Heavy/Thrash Metal
Bewertung: 4/5
Written by: Robert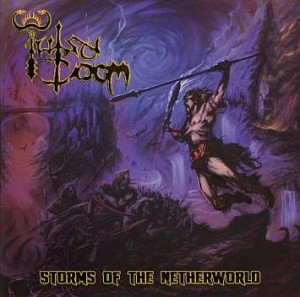 Blackened Heavy/Thrash Metal steht bei den Wienern von Tulsadoom ganz oben am Programm. Persönlich habe ich bis dato leider noch nichts von der Truppe gehört oder gar live gesehen. Wenn ich ehrlich bin, doch etwas schade, denn oftmals sind es eben die kernigen Truppen des Genres die amtlich auf die Pauke schlagen. Das tun die Wiener auch, auch wenn man die Schubladisierung gar nicht mal so ernst nimmt. Zwar, wenn man auf das Cover und das Pressefoto blickt, könnte man sagen, ok hier kommen die Nachfahren von Turisas. Nur mit den Finnen haben sie rein gar nichts gemeinsam, vielleicht den Händler wo man das Fell für die Verkleidung holt. Grundlegen werden hier preschen geschlagen die einfach den Thrash Maniac begeistern wird. Dieser braucht aber doch einen Fable für kleinere Schwarzuntermalungen. Der reinrassige Blackie wird da weniger bedacht und somit doch vermehrt im Thrash Metal verwurzelt wird eine ordentliche Keule seitens der Mannschaft geschoben, sodass einem manchmal Hören und Sehen vergeht. Der Groove darf dabei aber keinesfalls fehlen und so verwundert es auch nicht das eben die Melange aus guten Melodien, kauzigem Thrash Riffgewitter, kleinere Death 'n' Roll Attacken, so wie eben der kernige Bestandteil des Black Metal zündet wie eine geballte Ladung Dynamit. Der Fronter ist an sich gut, auch wenn er mir hier und da etwas schwachbrüstiger hervorsticht. Die Gesangslinie an sich bzw. Ausrichtung ist aber in Ordnung und so verleiht er durch eben das rauch, teils Whiskey getränkt geschwängerten Shouts den Songs noch die gewisse Note. Das nächste mal vielleicht einfach dominanter die Stimmen nach vorne rücken. Kultig klingt es allemal und dennoch wird hier nicht einfach die schnöde Retroschiene gefahren. Einfach eine Brise hiervon, eine davon und fertig ist ein gutes Gemisch, dass dem Thrasher definitiv Spaß machen wird.
Fazit: Blackened Heavy/Thrash Metal der mit frischem Wind durch die Szene geblasen wird. Freilich sollte man den Gesang noch etwas stärker ausbauen, dann würde das in Zukunft für die volle Punktezahl sorgen.
Tracklist:
01. Storms of the Netherworld 05:05
02. Skulls 04:32
03. Nightwind 04:23
04. Riders of Doom 05:35
05. Shadows over Lemuria 07:36
06. Tyrantfall 05:20
07. Stormride 05:20
08. Dustlands 04:34
09. The Coal of Blue Fire 03:56
10. Subraion Xan 06:48
11. Final Cataclysm 05:43
Besetzung:
King Totolva (voc)
Virgin Penetrator (guit)
Skullcrusher Volkov (guit)
Rick Thunder (bass)
Doktharr Radiovodnik (drums)
Internet: