Band: U.D.O.
Titel: Steelhammer
Label: AFM Records
VÖ: 2013
Genre: Heavy Metal
Bewertung: 5/5
Written by: Thorsten Jünemann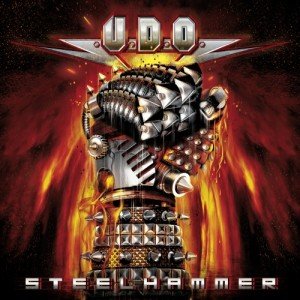 Seit über 2 Dekaden liefert UDO DIRKSCHNEIDER regelmäßig markanten, sog. Teutonenmetal in bester Qualität ab, doch war man auf den letzten Alben geneigt zu sagen, dass sich eine Art Inspirationslosigkeit eingeschlichen hat. Die letzten Studioalben waren nicht schlecht, aber auch nicht die wirklichen Bringer, wenn man sie mit UDO´s Gesamtwerken in seiner Karriere vergleicht.
Doch mit "Steelhammer" wird mit einem kleinen Schritt "back to the roots" etwas großes auf die Beine gestellt, das sämtliche Kritiker und Standard-Nörgler verstummen lässt.
Es ist die logischste aller Fortsetzungen in der Geschichte U.D.O.s. Der Ausstieg des langjährigen Gitarristen und Produzenten Stefan Kaufmann – Udos Weggefährte in alten ACCEPT-Zeiten bereits – und Gitarrist Igo Gianola gab Dirkschneider gezwungenermaßen den Anstoß, U.D.O. Soundtechnisch völlig neu aufzustellen. Gemeinsam mit Bassist Fitty Wienhold und Schlagzeuger Francesco Jovino entwickelte sich der sehr Groove-orientierte Klang von Kaufmanns Produktionsarbeit in einen sehr viel wärmeren und organischeren Sound.
Nach über 40 Jahren Zusammenarbeit bleiben Dirkschneider und Kaufmann gute Freunde. Lediglich ihre Zusammenarbeit musste aufgrund Kaufmanns schwerwiegender gesundheitlicher Probleme zu einem Ende finden.
"Steelhammer" markiert auch den Einstieg zweier neuer Gitarristen – dem russischen Andrey Smirnov und dem Finnen Kasperi Heikkinen. Die beiden wurden aus über 300 Bewerbern ausgewählt als das Album bereits so gut wie fertig war. Smirnov wurde kurzerhand zu einer Audition einberufen und endete unmittelbar danach als neues Bandenmitglied. Heikkinen stieß erst zur Band, nachdem die Aufnahmen im Studio komplett beendet waren und gibt sein Debüt auf der derzeit laufenden Nordamerikatour.
Und nun tönen 14 Songs teutonischen Edelstahls füllerfrei in knapp 1 Std. durch meine Hallen, wobei nicht jeder Song ein wirkliches Highlight ist, das Album aber doch kurzweilig und metallisch viel Spaß macht sowie genug kantige Melodien im Gehör hinterlässt.
Nennt man das nun "Comeback"?
Wenn ja, dann ist es vorbildlich gelungen! Ansonsten kann man es auch bedenkenlos Rückbesinnung auf alte Stärken und Tugenden nennen, nie klangen U.D.O. so geil wie früher als jetzt!
Tracklist:
01. Steelhammer 03:23
02. A Cry of a Nation 05:41
03. Metal Machine 04:46
04. Basta Ya 04:33
05. Heavy Rain 02:25
06. Devil's Bite 05:05
07. Death Ride 04:08
08. King of Mean 04:07
09. Timekeeper 04:26
10. Never Cross My Way 04:23
11. Take My Medicine 05:07
12. Stay True 04:04
13. When Love Becomes a Lie 04:12
14. Book of Faith 05:12
Besetzung:
Udo Dirkschneider (voc)
Stefan Kaufmann (guit)
Igor Gianola (guit)
Fitty Wienhold (bass)
Francesco Jovino (drums)
Internet: