Band: Under the Church
Titel: Rabid Armageddon
Label: Pulverised Records
VÖ: 30. Oktober 2015
Genre: Death Metal
Bewertung: 3,5/5
Written by: Atranok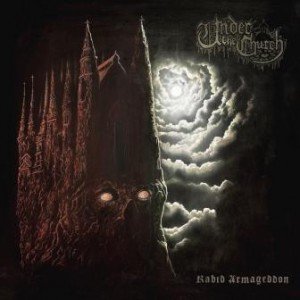 "Under the Church" nennt sich eine Band aus Schweden, die 2013 eine Demo und 2014 eine gleichnamige EP veröffentlichte. Kürzlich erschien dann endlich das Full-Length Album "Rabid Armageddon".
Der Name der Gruppe lässt ja in erster Linie an eine Band aus dem Black-Metal-Genre denken, beim Durchlesen der Tracklist ändert sich diese Vorstellung ebenfalls nicht. Dann legt man das Album ein und denkt: Black ist das aber nicht. Also sicherheitshalber noch die offizielle Bandbeschreibung lesen – siehe da: die Ohren täuschen nicht, es ist tatsächlich Death Metal.
Das aber nur als Anekdote am Rande – zur Musik selbst: Direkt nach dem Einlegen der Platte hat man den Eindruck als werde man musikalisch einige Zeit zurückversetzt. "Under the Church" liefern hier eine richtig gute Arbeit im Sinne des klassischen Death Metal ab. Hier mal eine melodische Raffinesse, dann wird wieder ein typischer Part zum Headbangen eingeworfen, schnell noch ein lässiger Tempowechsel und abgerundet wird das Ganze mit passablen Growls. Einzig manche Soli wirken, als ob man sie künstlich in die Länge ziehen wollte.
Stellenweise erinnert "Rabid Armageddon" an die frühen Bolt Thrower oder ähnliche Genrevertreter. Es macht richtig Lust, das Album anzuhören, und man kann sich bereits auf der Couch vorstellen, wie live bei manchen Parts der Moshpit rumort.
Fazit: Under the Church machen mit "Rabid Armageddon" vieles richtig, das man bei anderen Gruppen so schmerzlich vermisst. Man hat Spaß beim Anhören und sollte wohl freudig auf weitere Werke der Schweden warten.
Tracklist:
01. Sodomy And Blasphemy
02. Rabid Armageddon
03. Triad Ov Inquisitors
04. Magus
05. Suspended In Gore
06. Walpurgis Night
07. Mangled To A Bloody Mess
08. Penance
09. The Trail Of Cthulu
Besetzung:
Lars Henriksson – Bass
Erik Qvick – Drums, Guitars
Mik Annetts – Vocals
Internet: