Band: Victorius
Titel: Heart Of The Phoenix
Label: Massacre Records
VÖ: 13. Januar 2017
Genre: Melodic Speed/Power Metal
Bewertung: 4/5
Written by: Daniel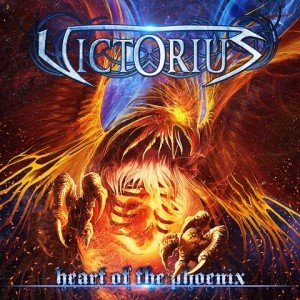 Die Anhaltiner (aus Köthen beziehungsweise Wolfen bei Bitterfeld) zeigen eines auf:
Wer beständig an sich arbeitet und seinem Ziel treu bleibt, der erreicht es irgendwann auch.
Von VICTORIUS gehört haben dürfte jeder schon einmal, denn das Quartett wird seit dem vor vier Jahren erschienenen Zweitwerk The Awakening in vielen Szenemedien lobend erwähnt.
Für meinen Geschmack etwas zu sehr, aber dennoch muss man mit jedem Album eine Steigerung feststellen. Das dritte Werk Dreamchaser ist mir noch ganz gut in Erinnerung, lief aber seit Erscheinen 2014 kaum noch über meine Lauscher.
Mit HEART OF THE PHOENIX wird es da anders verlaufen, denn die relativ lange Veröffentlichungspause hat sich in puncto Qualität spürbar gemacht.
Mit Tracks wie Heart Of The Phoenix, Sons Of Orion, Hero, End Of The Rainbow, Empire Of The Dragonking und Beyond The Iron Sky wächst die Band über sich hinaus und bietet nahezu perfekten Teutonic Speed Power Metal in der Stilistik von Bands wie Helloween und Gamma Ray, der auch Hammerfall – und Dragonforce – Fans nicht kalt lassen sollte.
Der gnadenlose Hammer Of Justice kreist mit ordentlich Härte und Geschwindigkeit sowie den perfekten Keys als absolutes Highlight über einem Album, welches mit dem stürmischen Opener Shadowarriors, dem gandenlosen Die By My Sword und dem knallharten Virus sowie dem abschließenden, seichten A Million Lightyears Away eine Hitdichte von 100 Prozent erreicht.
Daß zu dieser Art von Musik auch klischeebelade Texte gehören, steht dabei außer Frage.
Jedoch wird hier ein Pathos erreicht, der selbst dem trvsten der Trven irgendwann auf die ungegenderten Eier gehen kann.
Ein kleiner Wehrmutstropfen, der allerdings nicht an dem Umstand rüttelt, daß die Truppe musikalisch ohne Zweifel im obersten Drittel der Bundesliga angekommen ist. Deshalb sollten Genrefans der Band unbedingt eine Chance geben.
Trackliste:
01. Shadowwarriors
02. Hero
03. End Of The Rainbow
04. Die By My Sword
05. Sons Of Orion
06. Heart Of The Phoenix
07. Empire Of The Dragonking
08. Hammer Of Justice
09. Beyond The Iron Sky
10. Virus
11. A Million Lightyears
Besetzung:
David Baßin – Gesang
Dirk Scharsich – Gitarren
Florian Zack – Gitarren
Andreas Dockhorn – Bass
Frank Koppe – Schlagzeug
Victorius im Internet: