Band: VORKREIST
Titel: Sigil Whore Christ
Label: Agonia Records
VÖ: 2012
Genre: Black Metal
Bewertung: 4/5
Written by: Much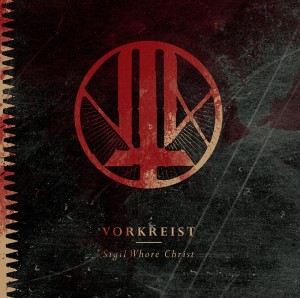 Gedanklich kaum eine parallele mit einer bekannteren Band hergestellt, verläuft sich der Einfall in der nächsten Sekunde bereits im Wind, der von den Blasts verursacht wurde. So vielseitig und doch strukturiert zeigt sich das 2012er Werk von Vorkreist. Solider Black Metal mit ordentlichen Rums serviert uns "French's finest" unter dem polnischen Wappen von Agonia Records mit ihrem vierten Studioalbum "Sigil Whore Christ". Durch die Jahre hinweg bin ich mittlerweile sehr wählerisch, was guten Black Metal angeht. Mit dementsprechend wenig Erwartungen begann ich, das Album auf Herz und Nieren zu prüfen und kam zu einem sehr positiven Ergebnis.
"Sigil Whore Christ" glänzt mit ordentlichen Blasts, teils einschlägigen Riffs und Vocals die eingefleischten Schwarzmetallern sehr gängig ins Gehör fallen. Trotz der Geschwindigkeit gelingt es dennoch, für den gewissen groove zu sorgen und hin und wieder – wie bei "Ad Nauseam" zu hören fällt man sogar in schleppende Passagen. Was will man anderes erwarten fragt man sich, wenn man sich das Musikerrepertoire einmal genauer ansieht. Hell Militia, Glorior Belli, Secrets of the Moon und Merrimack sind nur einige Bands deren Tonsetzer man sich einverleibt hat. Bei den Songtiteln gab man sich dem Latein hin, Geschmacksache.
Fazit: Die Scheibe ist von Anfang bis Ende sehr gut gelungen. Kaufen!
TRACKLIST
1. De Imitatione Christi
2. Maledicte
3. Deus Vult
4. Dominus Illuminatio Mea
5. Memento Mori
6. Ecce Homo
7. Per Aspera Ad Astra
8. Ad Nauseam
9. Scalae Gemoniae
Besetzung:
Saint Vincent : Vocals
A.K. : Guitars
EsX : Guitars
LSK : Bass guitar
Dave Terror : Drums
Internet:
Vorkreist @ Facebook
Vorkreist @ MySpace