Band: Xandria
Titel: Theater Of Dimensions
Label: Napalm Records
VÖ: 27.01.17
Genre: Symphonic Metal
Bewertung: 5/5
Written by: Robert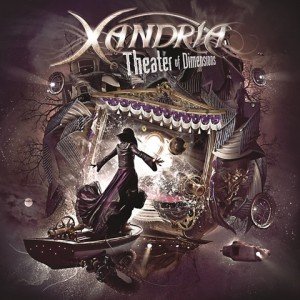 Deutschlands Exportschlager in Sachen Hörkino der symphonischen Metal-Marke schlägt zurück. Xandria bahnen sich mit "Theater Of Dimensions" ihren neuen Weg. Schon bei der Einleitung wird einem ganz klar, Xandria sind auf dem Vormarsch und von nichts und niemanden aufzuhalten. Bis dato haben die Herrschaften immer bewiesen, dass sie zu den Top Acts des Symphonic Metal zählen. Da kann daneben keine finnische oder gar holländische Band daran kratzen. So haut es einem desgleichen beim Opener des neuesten Albums gleich sämtliche Sicherungen raus. Mit einem enormen Druck und dem Verstand, wie man frisches für die Massen bringen muss, um selbige zu begeistern werden gleich alle Register gezogen. Bedingungslos verharrt man vor dem Player und hängt an den Lippen der Sängerin. Abermals kann ich der Lady uneingeschränkt attestieren, sie drängt hoch im Kurs stehende Kolleginnen dermaßen ins Eck, dass es kein Entrinnen gibt.
Alle Aspekte der Symphonic Metal Zunft wurden dabei ausgepackt. Obwohl man Schrauben noch angedreht hat, sind die Nuancen der Veränderung nur gering. Könnte man meinen, dass man sich desgleichen im Kreis dreht. Mitnichten, denn die Band hat leichte, dunkle Akzente dominanter angesetzt und das bohrt sich tief in die Gehörgänge. Dass man anliegend begeisterungswürdig kreischt versteht sich von selbst. Das angestrebte Soundkonzept geht komplett auf und das musikalische Kopfkino darf gestartet werden. Fantasy Romantik in epischer Erbfolge wohin man blickt, dafür muss man einen Fable haben. Hat man diesen, ist man geflashed und süchtig hört man sich den Silberling von neuem an.
Die Metallelemente und gleichmäßig verteilten Orchestrierungen sind gleichberechtigt. Bei anderen Kapellen kann hierbei oftmals zusehends das Ganze etwas kitschig-schmalzig wirken, doch der imposante Sound und die Techniken bei Xandria sind vorrangig nicht blos begeisterungswürdig, nein es unterstreicht das qualitativ hochwertige Händchen, mit denen die deutsche Smyphonic Metal Band in die Schlacht geht. Darüber noch der sehr starke, schönen, klare Gesang Sopranistin Dianne, und fertig ist ein neuerliches Masterpiece, da man nicht einen Höhepunkt des Albums suchen muss, nein das komplette, gesamte betrachtet ist ein Höhepunkt schlechthin.
Chöre und Bläser eine unruhige, verheißungsvolle Stimmung, wie auch epochale Einlagen, alles wurde reichhaltig und ausgewogen angepeilt. Da sitzt man wahrlich mit offener Kinnlade da und giert nach mehr.
Fazit: Xandria ist mit "Theater Of Dimensions" abermals ein Meisterwerk geglückt. Ohne Wenn und Aber bohren sich die knackigen Tracks bis tief in die Gehörgänge. Kopfkino auf allerhöchstem Niveau.
Tracklist:
01. Where the Heart Is Home 06:53
02. Death to the Holy 04:46
03. Forsaken Love 04:20
04. Call of Destiny 04:10
05. We Are Murderers (We All) 05:49
06. Dark Night of the Soul 05:21
07. When the Walls Came Down (Heartache Was Born) 05:11
08. Ship of Doom 04:50
09. Céilí 03:21
10. Song for Sorrow and Woe 05:24
11. Burn Me 04:42
12. Queen of Hearts Reborn 05:16
13. A Theater of Dimensions 14:22
Besetzung:
Dianne Van Giersbergen (voc)
Marco Heubaum (voc, guit & keys)
Philip Restemeier (guit)
Steven Wussow (bass)
Gerit Lamm (drums)
Internet: