Bands: MAYHEM, SODOM, ASPHYX, FLOTSAM & JETSAM, BATUSHKA, DEW SCENTED, MALIGNANT TUMOUR, THE RUINS OF BEVERAST, HARAKIRI FOR THE SKY, IZEGRIM, CARONTE, DISABUSE, DRAGGED INTO SUNLIGHT, MORTAL STRIKE, BLACK INHALE, CÂD, IRDORATH Date: 08.04.2017 Venue: Arena Wien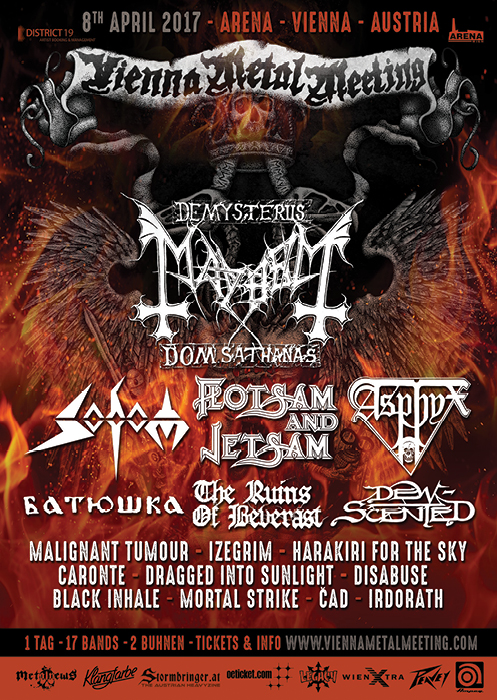 Um 14 Uhr wurden die Pforten der Arena Wien geöffnet, bereits 1h vorher hatten sich alle möglichen Gestalten vor dem Tor der Location versammelt. Die entspannte Masse betrat gemütlich nacheinander das Gelände. Eröffnet wurde das Festival von den Österreichern IRDORATH in der kleineren Halle. Daraufhin stürmten die Jungs von MORTAL STRIKE die Bühne der größeren Halle und heizten wortwörtlich ein. Die Truppe war energiegeladen und gab dem Publikum etwas davon ab. Sie gaben ihre Songs zum Besten und verabschiedeten sich so schnell wie sie gekommen waren. Nach Irdorath entschieden sich die einen, für den nächsten Act CAD zu bleiben, die anderen machten einen Abstecher zu BLACK INHALE in die kleinere Halle und dann gab's noch die, die einfach in die frische Luft flüchteten. Denn der Andrang an Menschen wurde erfreulicherweise immer größer und die Masse wurde auch immer schwungvoller.
Wer sich eine Pause zum Kraft tanken gönnen wollte, der hat ab und zu auf den ein oder anderen Act bzw. dessen Anfang/Ende verzichten müssen.
Aufgrund des parallel verlaufenden Running Order's war es fast unmöglich jede Band von Anfang bis Ende
mit zu verfolgen, ein typisches Merkmal von Festivals. Die Acts haben so ziemlich alle Vollgas gegeben und die Hallen gerockt. Die einen mehr die anderen weniger. Dass die Halle bei Sodom und danach bei Mayhem komplett vollgeladen war, dürfte keinen wundern. Aber auch Bands wie Mortal Strike, Batushka, Asphyx und Dragged Into Sunlight haben durch ihre Bühnenpräsenz definitiv einen Eindruck hinterlassen.
Für Essen und Getränke wurde ausreichend gesorgt.
Alles in allem ein sehr gelungenes und unterhaltsames Festival!
Auch Kollege Peter hat das Gathering besucht:
"Gewinner: Asphyx – waren voll motiviert und spaßig. Sodom und Mayhem waren dem Status entsprechend gut. Auch Batushka lieferte eine gute Live-Show, passend zur Platte, düster und atmosphärisch. Super fand ich auch überhaupt die Atmosphäre. Allgemein ein gelungenes Event!"
"Verdammt toll organisiertes Meeting für das Who-is-Who der österreichischen Metalfans – und Asphyx haben die Arena richtig demoliert – Wahnsinn!"
~ Andi Linhart, Festivalbesucher