The Astromythology Tour 2017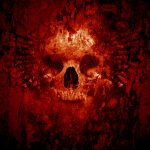 Freitag, 29. September 2017 Beginn: 20:00 Uhr | Einlass: 19:00 Uhr
Preis VVK: 22,-€ zzgl. Geb.
Sie stehen für energiegeladene Live-Performances, positive Botschaften und genre-übergreifende, weltweite Fangemeinschaften. The Crüxshadows. Sie sind die erfolgreichste amerikanische Synthpop/New Wave Band in Europa. 2017 kommt die Formation um Mastermind Rogue endlich mit neuem Album zurück. "Astromythology" wird ein weiterer musikalischer Meilenstein in der 25-jährigen Bandgeschichte sein. Wie es von Rogue (Gesang, Songwriting, Programming, Lyrics), Jen "Pyromantic" Jawidzik (Keyboards), David Wood (Violine), JoHanna Moresco (Violine), Jessica du Pont (Drums) und Victoria Whitford (Gitarre) nicht anders gewohnt ist, werden sie die neuen Songs auf einer ausgedehnten Tour live performen.
Mit ihrer Single "Helios", die überall digital erhältlich ist, geben sie schon jetzt einen ersten Vorgeschmack auf das neue Album "Astromythology". Den Song live erleben durften die Fans im September auf der Dragon*Con. "Bewegend, großartig, mehr davon", sind sich die Fans einig und fiebern dem gesamten Werk entgegen.
The Crüxshadows verbinden in ihren Songs Elemente aus New Wave, Pop, Rock, Gothic und Electronic auf ihre einzigartige Art. In Amerika platzieren sich vier Singles in die Top10 der Billboard Single Charts. Der Hit "Sophia" landet dort auf #1. Mit dem letzten Album (2012) "As the dark against the halo" feiern sie #1 in den Deutschen Alternative Charts.
Der unverkennbare Sound ist geprägt von fett arrangierten Violinen mit einem Hauch Romantik, treibenden und rockigen Gitarrenakkorden, welche mit Rogues markanter Stimme gekonnt verbunden werden. Glaube, Leidenschaft und Treue sind fokussierte Themen, die mit literarischen, historischen und mythologischen Facetten, textlich verarbeitet werden. Eingängige und tiefgehende Songs, die mehr als tanzbar sind, werden von Rogue perfektionistisch arrangiert.