Am Mittwoch dem 14.02.2018 erscheint ein neues Lyric Video der österreichischen Symphonic Extreme Metaller von CANDLES AND WRAITHS. Die erfahrenen Musiker hinter dieser Studioband haben sich in der Vergangenheit bereits in anderen Truppen (Obsidian Chamber, Harmanic, Horns of Hattin) einen Namen erspielt.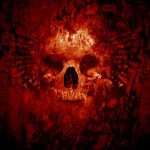 Die Wiener Connaisseurs des klassischen Horrors präsentieren euch ihren neuen Song "Beneath Cathedral Walls". Diesmal wird eine Geschichte von unsterblicher Liebe, albtraumhaftem Trieb und gefährlichem Wahnsinn erzählt. Das Veröffentlichungsdatum, zum Valentinstag, ist entsprechend passend gewählt.
Aufgenommen und produziert wurde der Song erneut von Daniel Fellner (Seiler&Speer, Artas, Devastating Enemy, Toyhead) und der Band selbst. Die Artworks für das Video wurden von der US Grafikerin Jill Colbert (www.manfishinc.com) angefertigt. Für den Videoschnitt zeichnete sich wieder Bernd Brodträger (Seiler&Speer, Belphegor, Nargaroth, Stormnatt) verantwortlich.
Die Arbeiten am ersten vollständigen Album des Kollektivs laufen auf Hochtouren. Es wird eine Veröffentlichung im Jahr 2018 angestrebt.
Das Video zu "Beneath Cathedral Walls" gibt es hier zu sehen:
https://youtu.be/F5f6ux7hDe0

Facebook Link: www.facebook.com/candlesandwraithsofficial