THE END A.D. aus Philadelphia werden am 25. August 2017 ihr Debütalbum "Scorched Earth" bei Massacre Records veröffentlichen!
Das Album wurde von Mike Bossier gemischt und von John Fachet gemastert. Chris Cold hat das Artwork gestaltet.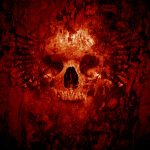 Das offizielle Video zur Single "Infinite Jest" kann hier in Ohren- und Augenschein genommen werden:

Beim Video führte Marc Brodzik (Woodshop Films) Regie, Andrew Geller kümmerte sich um die Bearbeitung.
Das neue THE END A.D. Album "Scorched Earth" kann bereits auf CD vorbestellt werden und ist zum attraktiven 'Newcomer Price' erhältlich.
Ende Juni 2017 haben THE END A.D. auch ihr neues Line-up vorgestellt:  Ab sofort steht Ami Friend hinterm Mikro, und Bassist Paul Orkin unterstützt ab sofort ebenfalls Drummer Lorin Savadove und Gitarrist Paul Juestrich.
Sänger Otto Luck, Bassist Dave Carr und Gitarrist John Plumley haben die Band aus persönlichen Gründen verlassen.
Auf dem kommenden Album "Scorched Earth" sind Sänger Otto Luck, Drummer Lorin Savadove, die Gitarristen John Plumley und Paul Juestrich sowie Bassist Dave Carr zu hören.
Demnächst wird die Band ein Video zur Single "When Wolf-Spiders Ruleth The Land" drehen und so aller Welt ihr neues Line-up präsentieren!
Quellenangabe: Massacre Records