Spricht man über Progressive Metal aus Kanada, demgemäß kommen sogleich die Herrschaften von Voivod in Erinnerung. Persönlich kam ich durch einen alten Noise Records Sampler in Berührung mit dieser Truppe. Das Label gib es nicht mehr, im Kontrast dazu haben es sich cmm GMBH zur Aufgabe gemacht, alte Erinnerungen wieder hoch leben zu lassen. Voran gegangen sind Skyclad, Kamelot, Tankard, Kreator und andere Bands die zu jener Zeit in den Diensten von Noise Records standen.
Wie erwähnt bei den Kanadiern wurde dies gleichgetan, wenngleich meine Wenigkeit nicht unbedingt jeden einzelnen Moloch der progressiven Welt der kanadischen Vorreiter der ausschweifenden, exzessiven Soundeinlagen komplett untersuchen wollte. Vielmehr wollte meine Wenigkeit darauf hinweisen, dass es ab sofort die Möglichkeit des Erstehens lang vergessener Perlen gibt. Mal im Plattenschrank gekramt, es sind doch tatsächlich Rrröööaaarrr und Dimension Hatröss in selbigen gelagert. Umso erstaunter ist die Neuauflage und zu einem guten Zeitpunkt, kann sich der Nachwuchs Progressive Metaller genauer in den Soundgebilden der Kanadier vertiefen.
Zwischen Thrash Metal und Progressive Metal mit Einflüssen aus Industrial und Elektro war zu Beginn der 80er eine eher verpönte Sache und nur wirkliche Die Hard Fans konnten dem folgen was Voivod anfänglich veröffentlichten. Im Netzt habe ich sogar mal gelesen, dass sie dem Cyberpunk zugeordnet wurden. Wie das? Zumindest bei den älteren Werken die bei Noise Records damals veröffentlicht wurden könnte ich dementsprechend nichts raushören und erst beim Folgelabel fand der Wandel statt. Vielmehr ist der Hauptbestandteil des technischen Thrash Metal mit vielen exzessiven Progressive Schüben. Wohl eher Technical Thrash Metal trifft es bei den Songs der Werke Rrröööaaarrr, Killing Technology und Dimension Hatröss die neue aufgelegt wurden. Des Weiteren sei bei diesem Special das Build Your Weapons: The Very Best of Noise Years 1986-1988 Best Off Album erwähnt, bei welchem einzelne Stücke zum Vorzug kamen.
Dem zum Trotz muss ich anmerken, letzteres ist uneingeschränkt was für jene die mal reinschnuppern wollen. Der geneigte Fan der kanadischen Progressive Götter sollte eher bei den Wiederveröffentlichungen der Alben aus dem Jahr 1986, 1987 und 1988 zugreifen. Das Artwork und die Aufmachung sind für den Sammler gegebenenfalls ein guter Griff und fürs erste Reinkommen ins Sounduniversum für nichtwissende ebenfalls ein guter Garant.
Genau in dieser 80er Phase könnte man Voivod von der Technik und dem Soundgrundgedanken her mit Gojira vergleichen. Wie die Franzosen heute, vermochten die Kanadier einst eine eigene Art der technischen Thrash Umsetzung zu gewährleisten. Das wahrscheinlich interessanteste ist die Tatsache des in der Anfangsphase (bis zum fünften Album) eine Art der post nuklearen futuristischen Ausrichtung gab, welche zum damaligen Zeitpunkt und dem Weltgeschehen passte. Gewiss haben dazumal Bands, wie Megadeth und Konsorten mit einigen Songs und vor allem durchs Cover Artwork die metallische No-Future-Generation geprägt, den Vortritt für klangliche Experimente überließ man dagegen schier komplett Voivod.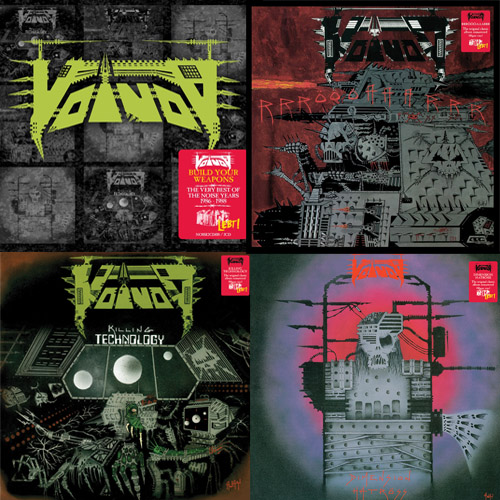 Persönlich weiß ich es nicht, allerdings vermute ich mal, dass es seinerzeit schon Schreiber von Gazetten gab, welche rhythmische Ähnlichkeiten mit Megadeth, Testament und so weiter aus dem amerikanischen Thrash Metal Sektor erkannt haben. Erst beim Verfassen des Specials ist mir das wiederkehrend klar geworden, wie ident man eigentlich den Thrash einfließen hat lassen. Dass es hingegen durch die progressiven und technischen Einlagen deutlich eigenwilliger klingt, steht im Kontrast dazu.
Fragwürdig somit, ob die Kanadier nochmals zu diesen Wurzeln zurückkehren wollen. Eine wünschenswerte Idee wäre es allemal. Denn bereits zu diesem Zeitpunkt der Ära waren die aus Quebec stammenden Musiker ihrer Zeit immer ein Stück voraus und wurden dafür oftmals schräg belächelt. Blickt man heute zurück und hört man sich die erste Phase unter Noise Records an, wünscht man sich oftmals diese Zeit und den Sound zurück. Nicht, dass die Combo heute schlechte Musik macht. Bitte nicht falsch verstehen, dennoch hatten sie in jener Zeit eine komplett anderen Faden aufgegriffen, wo es heute interessant wäre, wie Voivod mit altem Konzept in der heutigen Zeit klingen würden.
Bleibt noch die Frage, wer braucht die Wiederauflagen? Die Aufmachung der Kompilation, sowie der genannten Meilensteine im schmucken Digipack mit fettem Booklet und Linernotes der Musiker ist vorbildlich und dürfte für eingeschworene Voivod Fans mal ein Blick tiefer in die Geldbörse sein, ob man die alten Alben pflegt, einlagert und durch diese Neuauflage ersetzt. Jene die mal einen Zeitsprung wagen wollen und dem Progressiven Thrash Metal hold sind, machen mit diesen Neuauflagen definitiv nichts falsch.
Bleibt noch die Frage, wann werden die alten Noise Records Club Magazine neue hinzugetan. Wäre am Rande und zu guter Letzt eine nette Draufgabe, sofern da noch Restbestände existieren. Eines habe ich indessen tatsächlich in einem Umzugskarton mit zwei Pins gefunden 😀
Build Your Weapons: The Very Best Of The Noise Years 1986-1988 Tracklist:
CD1
01. Korgüll the Exterminator
02. Fuck Off and Die
03. Ripping Headaches
04. Thrashing Rage
05. The Helldriver
06. Build Your Weapons
07. Killing Technology
08. Overreaction
09. Tornado
10. Forgotten In Space
CD2
11. Ravenous Medicine
12. Order of the Blackguards
13. Cockroaches
14. Experiment
15. Tribal Convictions
16. Chaosmongers
17. Technocratic Manipulators
18. Macrosolutions to Megaproblems
19. Brain Scan
20. Psychic Vacuum
Rrröööaaarrr Tracklist:
CD1
01. Korgüll the Exterminator
02. Fuck Off and Die
03. Slaughter in a Grave
04. Ripping Headaches
05. Horror
06. Thrashing Rage
07. The Helldriver
08. Build Your Weapons
09. To the Death!
CD2
Spectrum '86 – 'No Speed Limit Week-End'; Live at Montreal, October '86
01. Korgüll the Exterminator
02. Ripping Headaches
03. Blower
04. Fuck Off and Die
05. Tornado
06. Iron Gang
07. War and Pain
08. Warriors of Ice
09. Nuclear War
10. Overreaction
11. The Helldriver
12. Ravenous Medicine
13. Voivod
14. Thrashing Rage
DVD
Audio:
Rrröööaaarrr Rough Mix Demo 1985
Anachronism Live 25.06.86 (first show)
Early Rehearsals 1983-1984
Piggy Sound Collage 1980
Video:
Live, NYC, N.Y., USA – 05/05/86; First U.S. Show
Live, Long Beach, C.A., USA – 06/13/86
Live, Jonquiere High School, QC, Canada, 12/20/84; Morgoth Invasion
Live, Jonquiere Cultural Center QC, Canada, 01/27/84; To the Death!
Slideshows: Artwork (1983 – 1986) + Live & Studio Photos (1985 – 1986)
Killing Technology Tracklist:
CD1
01. Killing Technology
02. Overreaction
03. Tornado
04. Too Scared To Scream
05. Forgotten In Space
06. Ravenous Medicine
07. Order of The Blackguards
08. This Is Not An Exercise
09. Cockroaches
CD2
Spectrum '87 – Live In Montreal, September 1987
10. Killing Technology
11. Overreaction
12. Ravenous Medicine
13. Tornado
14. Korgull The Exterminator
15. Ripping Headaches
16. Blower
17. Live For Violence
18. Tribal Convictions
19. Order of The Blackguards
20. Cockroaches
21. To The Death
22. Voivoid
23. Batman
DVD
Audio:
Live At Kriekelaarzaal, Brussels, Belgium: 28/11/87
Video:
Live At The Token Lounge, Westland, MI, USA: 14/05/87
Live At Rossli Azmoosm, Sargans, Switzerland: 06/11/87
Live At Festhalle, Tuttlingen, Germany: 07/11/87
Live At Rex Club, Paris, France: 01/12/87
Live At Ildiko's, Toronto, ON, Canada: 19/09/87
Slideshows: Artwork (1987) | Live & Studio Photos (1987)
Dimension Hatröss Tracklist:
CD1
01. Experiment
02. Tribal Convictions
03. Chaosmongers
04. Technocratic Manipulators
05. Macrosolutions To Megaproblems
06. Brain Scan
07. Psychic Vacuum
08. Cosmic Drama
09. Batman
CD2
Spectrum '88 – 'A Flawless Structure?'; Live in Montreal, December 21st 1988
01. Overreaction
02. Experiment
03. Tribal Convictions
04. Chaosmongers
05. Ravenous Medicine
06. Korgull The Exterminator
07. Technocratic Manipulators
08. Macrosolutions To Megaproblems
09. War And Pain Medley
10. Brain Scan
11. Psychic Vacuum
12. Order to The Black Guards
13. Holiday In Cambodia
14. Batman
DVD
Audio:
Dimension Hatröss Demo 1987
Videos:
Live At Blondies, Detroit, MI, USA : 18.11.88
Live At The Axiom, Houston, Texas, USA : 10.12.88
Live At Anthrax, Norwalk, CT, USA : 09.11.88
Live At Fenders Ballroom, Long Beach, California, USA: 03.12.88
Slideshows – Artwork | Live And Studio Photos (1988)