Band: Averno
Titel: Averno
Label: Sounds of Metal
VÖ: 2014
Genre: Heavy Metal
Bewertung: 4/5
Written By: Robert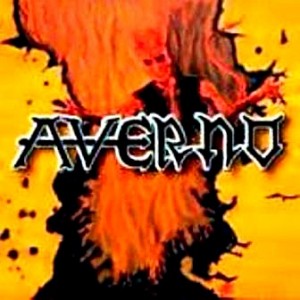 In letzter Zeit scheint es immer mehr bei etlichen Labels der Brauch zu sein, alte Leichen aus dem Keller zu zerren. Einerseits fragt man sich wieso, denn es gibt einfach so viele Bands, welche noch im Geschehen sind und unterstützt gehören. Andererseits wollen einige wohl auch noch alte Perlen kredenzen und somit vielleicht darauf hoffen, dass sich diese Truppen wieder aufraffen, um einen erneuten Versuch zu starten. Die heutige Rezension handelt um die spanische und 1987 aufgelöste Truppe Averno. Mitte der Achtziger hat man es nur auf drei Releases gebracht Demo 82 (1982), Las almas de los muertos (1983) und Fuego del infierno (1984).
Ohne Zweifel werden hier die Stücke noch einmal alle veröffentlicht und halt via Sounds of Metal neu aufgelegt. Man hat alles so belassen wie man es erahnt und dadurch haben die Tracks einen sehr alten Charme. Keine neue aufgelegte Retrorunde, sondern einfach eine Wiederbelebung der Songs der Spanier. Ihr Stil ist zwar dem britischen Metalsteel angelehnt, doch die Truppe tendiert, wie viele andere alte Helden aus dem spanischen Raum auf die eigene Umsetzung. Das hat bei den anderen funktioniert und funktioniert auch Anno 2014 mit diesem Release. Freilich und das steht außer Frage, muss man einen Fabel für alte Sachen haben, ansonsten verzieht man schmerzverzerrt das Gesicht. Irgendwo zwischen Iron Maiden und Running Wild trudelt die Truppe daher. Die leichten Nuancen der Spanier mit eben diesen aussagekräftigen Bands kombinieren oder besser gesagt kombinierten sie mit Variationen aus dem Bereich von Baron Rorjo, Muro und Angeles del Inferno. Der rockige Anteil kommt eben von letzter genannter Truppe, der prächtige Metal Anteil von Muro. Für mich als spanischen Metalverehrer ist das ja ein wahres Volksfest und somit, da ich ja die anderen Demos nicht besitze ein durchaus legitimer Releases. Für jene die, und das werden wohl wenige sein die Demos besitzen, ist das halt eine Zusammenfassung die weniger notwendig ist. Wie auch immer, wer eben auf eine Retrorunde aus dem spanischen Raum mal was braucht, ist hier definitiv am richtigen Platz. Quer durch die spanische Metalszene der 80er entführen uns die Jungs und die Tracks sind sehr stark zurecht gezimmert worden. Diese zünden auch heutzutage noch und haben einen ganz besonderen Charme. Der spanische Metal war immer schon etwas anders, mit viel Prestige und Klischee behaftet, dafür aber umso genüsslicher und mit viel Freude umgesetzt.
Fazit: Legitim, da es eben die bis dato veröffentlichten Lebenszeichen nicht zu erwerben gibt. Die Retro Fans können ruhig zugreifen, denn alle Klischees werden von den Spaniern geboten. Sound wie auch Produktion wurde weites gehend so belassen und dadurch hat man viel Underground Flair. Es klingt aber auch nicht zu ruppig und somit kann man sich das Teil ruhig geben, ohne gleich die Ohrenkrätze zu bekommen.
Tracklist:
01. Intro: La Puerta de la verdad 04:15
02. Entérate 03:20
03. Llegará vuestro final 03:41
04. Sobre la marcha 03:50
05. Bajo el abismo 03:45
06. No a las armas 03:28
07. Sobredosis 02:47
08. Mendigo sin querer 03:08
09. Libre del Tiempo 03:24
Besetzung:
Gustavo González Baragaña (drums)
Tino Davila (voc & guit)
Jorge González Baragaña (guit)
Riki Amundarain (bass)
Julio Barrientos Alvez (voc)
Kike Solís (bass)
Óscar González Baragaña (guit)