Band: Ghost
Titel: Popestar
Label: Spikefarm Records
VÖ: 16.09.16
Genre: Heavy Metal/Rock
Bewertung: ohne Bewertung
Written by: Robert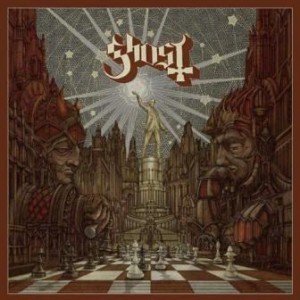 Die schwedischen Heavy Metal/Rock und Metal Messen zelebrierer, Ghost, sind nichts für schwache Gemüter. Ihr Sound ist einfach eine eigen Art bzw. Rasse. Freileich Heavy Metal/Rock Bands gibt es wie Sand am Meer. Auch die qualitativ hochwertigen Formationen haben hier ihren Status. Dennoch, oder wahrscheinlich aufgrund der Synonyme innerhalb der Band und dem etwas seltsamen Image, sind eben Ghost eine Klasse für sich. Viele Metal Puristen tun ja die Schweden oftmals als gehypte Band ab. Nun es mag sicherlich so sein, dass es wohl keine andere Band gibt, welche solch einen Status haben. Dennoch würde ich das Wörtchen Hype beim Rausbringen wieder runter schlucken. Denn sie sind nicht auf dem Fährwasser von den Idioten von Babymetal. Nein sie haben ihre Klasse und auch ihre Musik ist definitiv eine Art Kunst, wenn auch etwas schwer verdauliche. Wenn man sich verkleidet und von einem Bischofsoutfit profitiert, warum sollte man es auch nicht nutzen.
Die EP an sich ist ja keine herkömmliche EP, nein diese Cover Songs sind wohl eher als Überbrückung bis zum nächsten Album gedacht. Ja richtig Cover Songs und Kollege Daniel hat definitiv schon wieder ein jucken in den Fingern. Bin ja eigentlich auch nicht so der Fan von Cover Alben. In diesem Falle ist das aber wirklich knackig und man bewegt sich abseits vom herkömmlichen Heavy Metal/Rock.
Das Material auf Popestars klingt wie eine Melodic Rock Palette, teilweise sogar recht Metal orientiert. Gut kombiniert gibt es hier eine gut gewählte Auswahl an Songs die richtig Partylaune ins Zimmer zaubern. So wären wir wieder beim Thema, brauche ich so etwas echt? Nun das muss jeder mit sich selbst ausmachen, aber im Falle von Ghost finde ich erstens die Umsetzung der Songs sehr gut und zweitens setzt man den Songs einen eigenen Stempel auf.
Wenn und das muss man nämlich keine Band kennt, wie beispielsweise Eurythmics, dann muss man auch das Original anhören. Echo & the Bunnyme, Simian Mobile Disco und Imperiet dürften wohl wirklich nur astreine und intensive Pop Hörer kennen. Dank Udo Huber sind mir die nämlich nicht geläufig

Nun gut, für die Rezension wurde das Original der einzelnen Acts genauer durchgehört. Gute Parallelen, aber eben seitens Ghost eine sehr fachmännisch und gut eingebrachte, eigene Linie in den Sound eingebaut. So könnten, wüsste man es nicht, die Songs aus der Feder der Schweden stammen. Besonders "I Believe" ist ja eine tolle Hymne geworden. Könnte auch was für jene Fraktion sein, welche erst durch "Sound Of Silence" auf Disturbed gekommen sind.
Das steht eben für die Herangehensweise gewisser Kapellen zu Cover Tracks und im Falle von Ghost finde ich eben die Umsetzung Grandios, egal ob bekannt Eurythmics, oder die restlichen Stücke auf dieser EP.
Fazit: Durchaus empfehlenswerte Cover EP, welche aber definitiv nur als Überbrückung und Lückenfüller zu sehen ist.
Tracklist:
01. Square Hammer 03:59
02. Nocturnal Me (Echo & the Bunnymen cover) 05:14
03. I Believe (Simian Mobile Disco cover) 04:06
04. Missionary Man (Eurythmics cover) 03:43
05. Bible (Imperiet cover) 06:35
Besetzung:
Nameless Ghoul (bass)
Nameless Ghoul (drums)
Nameless Ghoul (guit)
Nameless Ghoul (guit)
Nameless Ghoul (keys)
Papa Emeritus III (voc)
Internet: