Band: The End
Titel: Age of Apocalypse
Label: F.D.A. Rekotz
VÖ: 23.09.16
Genre: Death Metal
Bewertung: 3,5/5
Written by: Robert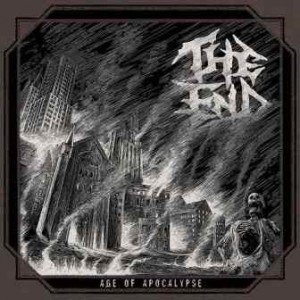 The End ist das neue Baby des ehemaligen ex-Death, ex-Massacre Gitarristen Rick Rozz. Nach einer 2 Track Demo schiebt der Mastermind, mit seinen beiden Mitstreitern Mike Mazzonetto (drums) und Michael Grim (voc & bass) nun die EP "Age Of Apocalypse" nach. Simpler Death Metal und dennoch in hoher Qualität wird hier geboten. Der sehr starke Ami gefärbte Death Metal aus der Feder des Mastermind kommt richtig knackig und verholen aus den Boxen und bohrt ein gutes Loch in die Gehörgänge.
Mehrheitlich, man könnte sogar fast ausschließlich ist die Keule die man schwingt sehr Old School lastig. Besonders die Massacre Roots wurden am aussagekräftigsten übernommen. Somit wohl ein größte Parallele die man in petto hat. "From Beyond" gehört noch immer zu meinen Lieblingsscheiben und genau deshalb zünden auch die Tracks, zumindest bei mir von The End.
Sicherlich darf man sich keine großen Überraschungen bei den vier Songs erwarten, aber im Grunde genommen, serviert man uns einen durchaus guten Death Metal Happen. Freilich eben noch ausbaufähig, aber durch die Bank vermögen die Amis hier mit ihrer Keule ordentlich Staub aufzuwirbeln.
Fazit: Gutes Death Metal Werk, wo aber auch noch genügend Luft nach oben hin offen ist.
Tracklist:
01. Age of Apocalypse 03:29
02. Crawling Back to Life 02:39
03. Silent Screams of Death 03:00
04. Inhale the Plague 03:31
Besetzung:
Rick Rozz DeLillo (guit)
Mike Mazzonetto (drums)
Michael Grim (voc & bass)
Internet:
The End @ Facebook