Band: Kill Ritual
Titel: The Eyes Of Medusa
Label: Golden Core / Zyx
VÖ: 2014
Genre: US Metal, Thrash Metal
Bewertung: 4/5
Written By: Robert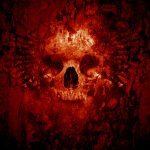 Kill Ritual, die Band um den ehemaligen Imagika Gitarristen Steve Rice, versucht an glorreichen Tage von VICIOUS RUMORS , METAL CHURCH , AGENT STEEL, MELIAH RAGE , REVEREND anzuknüpfen. "The Eyes Of Medusa" ist bereits der dritte Output der Formation. Eine 50:50 % Chance dass dies ohne Blessuren funktioniert. Einfallsreich scheinen ja die Mannen um Steve ja zu sein, denn die Vermischung der Einflüsse der genannten Kapellen funktioniert. Auch am gehörigen Druck fehlt es nicht und somit ist alles eigentlich im grünen Bereich. Etwas fehlt hier und da an Originalität, doch dies machen die Burschen mit viel Spielfreude weg. Amtliche Power Kracher, welche mit sehr durchgreifenden Attacken, wie auch rauen Ecken und Kanten versehen wurde. Im Gegensatz zu anderen Kapellen setzen sich Kill Ritual locker hinweg und wissen sich zu behaupten. Man darf jetzt sicherlich nicht die Neuerfindung vor dem Herrn erwarten, doch modernisiert man die US Metal orientierten Stücke durchaus mit coolen groovy Versionen. Somit fehlt es eben nicht an der Eigenständigkeit und das Packet explodiert mitgeballter Ladung recht gut. Sicherlich gäbe es noch einiges genauer auszufeilen, doch die Ideen und der nicht zu schlichte Klang beschwichtigen einfach. Zwar sind einige Melodicarrangements im Hintergrundsound eingepackt, welche sich aber auch nicht oder sagen wir nur an und ab etwas dem Hörer erschließen.
Fazit: Die Band offeriert uns eine sehr aufgefrischte US Metal Portion, bei der aber sicherlich noch etliches Luft nach oben offen lässt. Dennoch und aufgrund der gut durchdachten Stücke aus der Feder von Mister Rice ein guter, fester Platz im vorderen Drittel.
Tracklist:
01. The Eyes Of Medusa
02. Hair Trigger
03. Never Get Me
04. Ride Into The Night
05. Weight Of The World
06. Writing On The Wall
07. Just Another Sin
08. My Little Sister
09. Unleashed
10. Agenda 21
Besetzung:
Josh "Crimson" Gibson (voc)
Steve Rice (guit)
Danyael Williams (bass)
Gee Anzalone (drums)
Internet: