Band: Dygitals
Titel: Dynamite
Label: Mausoleum Records
VÖ: 21.05. 2015
Genre: Hard Rock
Bewertung: 2,5/5
Written by: Daniel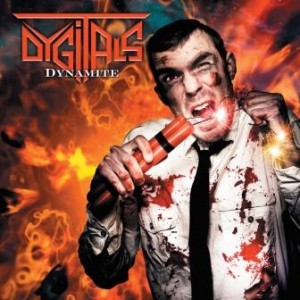 Ich bin doch irritiert: Zum ersten erwarte ich bei dem Cover eher Thrash Metal, doch es gibt hier netten, eher lauwarmen Hard Rock inspiriert von Bon Jovi, Van Halen, ein wenig Alice Cooper und auch The Who haben bei den Franzosen Spuren hinterlassen. Insofern ist, zum zweiten, auch der Albumtitel etwas hochgegriffen. Firecrackers hätte wirklich gelangt… Zumal ich hier von dem Heavy Metal, der versprochen wird, kaum etwas wahrnehme. Verpasst hat man also bisher anscheinend nichts, wenn man bedenkt das die seit 1984 bestehende Band hier erst ihr drittes Album zustande gebracht hat, welches DYGITALS laut Beipackzettel "stronger than ever" präsentiert.
Dabei möchte ich mich nicht in arroganter Weise erdreißten, hier weder Band noch Album die Daseinsberechtigung und schon garnicht sicher vorhandene solide bis gute Qualität abzusprechen. Der Bon Jovi – lastige Opener in etwa ist locker im Genre Mittelfeld, das straighte No Speed Limit und das Alice Cooper ähnliche Sin City sind sogar richtig Klasse. Will You Help Me hat ein starkes Riff, ordentlich Schmackes und einen ordentlichen Refrain und darf mit seiner feinen Melodieführung in der Mitte ebenfalls zu den Highlights auf Dynamite gezählt werden. Auch 30 Years Of Rock hat seine Momente, baut aber schnell ab.
Der Rest ist handwerklich ebenfalls gut gemacht, aber überzeugt weder mit zündenden Idden, noch mit den markanten Hooks, die man in diesem Genre einfach braucht. Macht insgesamt also drei Punkte, jedoch hätte man mit Don't Want To Let You Down durchaus den Songnamen ernst nehmen und einem diesen Song ersparen können. Denn auf so einen belanglosen Mist im 70er Hard Rock Stil hat man nach so viel Durchschnitt dann nicht mehr. End Of The Story bietet dagegen einen kommerziellen Anbiederungsversuch im 80er Stil, allerdings aus der dritten Reihe. Das wertet den Gesamteindruck ab, so das ich hier nur absoluten Hard Rock Fans ein anchecken empfehlen kann.
Trackliste:
01. Dynamite
02. 30 Years Of Rock
03. No Speed Limit
04. Sin City
05. Everybody Knows
06. Will You Help Me
07. No Way Out
08. We Wanna Live Free
09. Don't Want To Let You Down
10. End Of The Story
Besetzung:
Herve Traisnel – lead vocals
David Dugaro – lead guitar, backing vocals
Jean-Marc Lavayssière – rythm guitar, backing vocals
Jack Gayffier – bass guitar, backing vocals
Alain Clouet – drums, backing Vocals
Dygitals im Internet:
Homepage