Band: ELDERBLOOD
Titel: MESSIAH
Label: Osmose Productions
VÖ: 27.05.2016
Genre: Symphonic Black-/Death Metal
Bewertung: 2,5/5
Written by: Mayhemer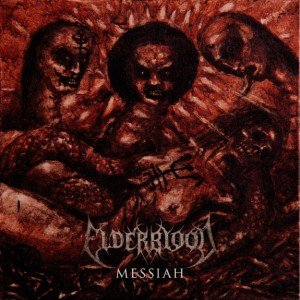 Die aus der Ukraine stammenden ELDERBLOOD existieren seit ca. 2011 und haben nun, nach deren hoch angesehenem Debut "Son of the Morning" 2013, ihren Zweitling "Messiah" am Start. Aber nicht nur das neue Werk ist vom Stapel, sondern auch das Duo Astargh und Odalv haben um 2 weitere Mitstreiter aufgestockt und so das Bandgefüge erweitert.
Die Songs an sich haben allesamt Potenzial und gehen auch während der Listening Session gut ins Ohr. Die Aggressivität der Songs ist gut zu spüren und setzt den geneigten Hörer auch in die, von der Band gewollte hasserfüllte Stimmung. Das Cover tut sein Übriges. Die Gitarrenarbeit gepaart mit den Symphonic Einlagen wurden gut miteinander kombiniert, sodass die Songs wirklich gut bei mir ankommen.
Die Musik von Elderblood ist ein gute Mischung aus Death Metal, Black Metal (gutes Gekeife!) und eben das eingesetze Keyboard wurde meiner Meinung genau richtig eingesetzt. Aber. Ja, das berühmte Aber: Die Lieder bleiben nicht im Ohr hängen. Wenn die CD aus ist, hat man die Songs bereits wieder vergessen und man weiß nach kürzester Zeit gar nicht mehr, dass man sich Elderblood angehört hat. Der Wiedererkennungswert geht gen 0. Schade.
NUR ein einziges Lied kann meine Gehörgänge auch im Nachhinein noch erheitern: "Adamas Ater". Der wirklich hervorragende Rausschmeisser ist ein perfekt umgesetzer Song, der mit Sicherheit seinesgleichen suchen und den Weg auf meine Playlist finden wird. Nur ist halt ein Song auf einem ganzen Album zu wenig.
Tracklist:
01. Thagirion's Sun
02. Invocation of Baphomet
03. Devil in the Flesh
04. Leviathan
05. Satana
06. In Burning Hands of God
07. Adamas Ater
Besetzung:
Astargh – vocals, guitars, bass, keyboards
Odalv – drums
Topheth – guitars
Blodorn – bass
Internet:
ELDERBLOOD @ Myspace