Band: Blood of the Sun
Titel: Burning On The Wings Of Desire
Label: Soulseller Records
VÖ: 2012
Genre: Doom Metal, Hard Rock, Stoner Rock
Bewertung: 3/5
Written by: Thorsten Jünemann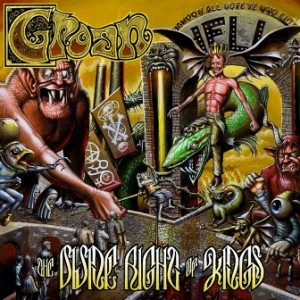 GROAN stammen von der Königsreich-Insel und haben ein extremes Faible für Bier, Gras und Black Sabbath. Nur nicht ganz so eingängig wie Iommi & Co.
Eine nettes Album welches aber im Fazit nicht reicht, um eine Kaufempfehlung auszusprechen denn viel zu groß ist die Masse an "Retro-Rock" derzeit, in der es weitaus bessere und durchdachtere Alben zu kaufen gibt.
Die Songs tun nicht weh, bleiben aber auch nicht eine Sekunde lang im Ohr hängen und ich habe das Album wahrlich rauf und runter gehört.
Live ist´s bestimmt ´ne nette verkiffte Party, aber von Platte ist es leider sehr unspektakulär um mit mehr als 3 / 5 Punkte bedacht zu werden. Geld sparen und auf Livedates warten…
Tracklist:
01. Weeping Jesus
02. Sacrificial Virgins
03. Magic Man
04. Dissolution
05. Atomic Prophets
06. Gods Of Fire
07. How Black Was Our Sabbath?
08. Let's Have A Pint At The Crooked Cock
09. Black Death
10. The Divine Right Of Kings
Besetzung:
Mazzereth (voc)
Dan Wainwright (guit)
Leigh Jones (bass)
Chris West (drums)
Internet:
Groan @ Reverbnation