Band: Temple Of Lies
Album: The Serial Killer Suite
Label: Attic Records
VÖ: 01.07.17
Genre: Metal, Stoner Rock, Grunge
Bewertung: 3/5
Written by: Jasmin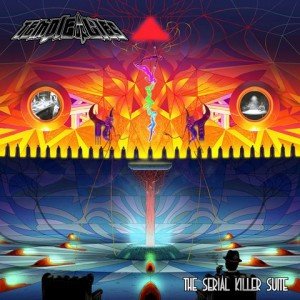 Temple Of Lies, die sich in erster Linie aufgrund von energiegeladenen Live-Auftritten einen Namen gemacht haben, veröffentlichen das bereits dritte Album seit ihrer Gründung 2010.
"The Serial Killer Suite" ist als Konzeptalbum gedacht und präsentiert dem Hörer eine sehr abwechslungsreiche Mischung aus Rock und eingängigem Metal. Am ehesten erinnert mich diese Musik an Prong. Darauf festlegen kann ich mich aber nicht, da sich TOL mit jedem Song einem anderen Sub-Genre annähern.
Fast schizophren werden annähernd alle metal- und rocklastigen Stile durchgearbeitet. Die einzige Konstante scheint die raue, kraftvolle Stimme des Sängers zu sein, die zumindest Wiedererkennungswert besitzt.
Ob sie nun einfach Entscheidungsschwierigkeiten haben oder auch dem noch so anspruchsvollen Rocker das seinem Gusto entsprechende Liedchen präsentieren möchten, weiß ich nicht.
Zumindest ist ihnen hoch anzurechnen, dass die Kategorie "Rockballade" ausgespart wurde. Das steigert ihr Ansehen in meinen Augen immens.
Tracklist:
01. Epic Doom
02. Illusion Of Choice
03. Broken Mind
04. Modus Operandi
05. Skin
06. I Cut You Bleed
07. Sleep
08. Dark Energy
09. Teeth
10. Face Of Grey
11. Symbiotic Parasite
12. Nihilist Dreams
Besetzung:
Si Shaw – vocals
Jon Scranney – guitar
Jags – bass
Alex Gamble – drums
Internet:
Temple Of Lies Webseite