Band: Vandallus
Titel: On The High Side
Label: High Roller Records
VÖ: 06. 05. 2016
Genre: Hardrock/Metal
Bewertung: 4,5/5
Written by: Daniel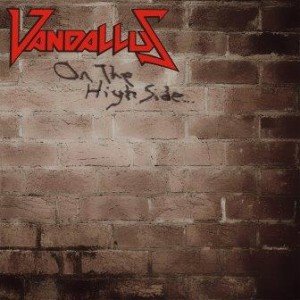 Die Midnight Mitglieder Shaun Vanek und Steve Dukuslow spielen auch bei  Eternal Legacy, mit deren  Fronter Jason man sich unter dem Banner VANDALLUS zusammentat, um "ein Album im Stile des Hardrocks der späten Siebziger und frühen Achtziger aufzunehmen."
Die Mission war ehrenhaft und erfolgreich, denn deren Ergebnis ON THE HIGH SIDE wird bei Hardrock Fans, die beim Gedanken an die Scorpions der gehuldigten Dekade, alten Dokken, Mötley Crüe, Cinderella und heute eher unbekannten Vertretern wie Angel City feuchte Hosen bekommen, auch hier für eben diese sorgen.
Der Opener Break The Storm und der Midtempo Rocker Get Out verbinden sämtliche Stärken der ebengenannten Acts meiner Meinung nach am Besten, haben sie doch sowohl ein prägnantes (Scorpions-) Riff, eine (Cinderella-) Bridge die für Gänsehaut sorgt und einen (Mötley Crüe-) Refrain der sitzt. Der Titeltrack On The High Side, der im flotten Dokken Stil gehalten ist, und der radiotaugliche Midtempo Melodic Rocker Who's Chasing Me MÜSSEN einfach von 1983 sein!
Dem relativ langen – und ebenfalls gelungenem – "Büchsenöffner" Running Lost folgt mit Back To Grind ein schweinegeiler Banger, welcher der Haarspray – Ära alle Ehre macht.
Dagegen ist On The Top Of The World anfänglich White Lion – Schnulze, dann Scorpions Hymne und "Crüe – Banger", letzendlich aber einfach nur stadiontauglich.
Genauso wie der abschließende Stampfer A Fool You're Right, der nochmals verdeutlicht, dass den Amerikanern hier ein echter Geniestreich gelungen ist, bei dem sogar ähnlich gelagerte Bands wie High Spirits einpacken können. Abchecken, abholen, abfeiern!
Trackliste:
01. Ratt
02. Break The Storm
03. On The High Side
04. Who's Chasing Me
05. Running Lost
06. Back To The Grind
07. Get Out
08. On Top Of The World
09. A Fool You're Right
Besetzung:
Jason Vanek – vocals, guitar
Shaun Vanek – guitar, drums, bass
Steve Dukuslow – drums
Vandallus im Internet:
Homepage