Band: American Heritage
Titel: Prolapse
Label: Solar Flare Records
Genre: Sludge/Hardcore/Punk
VÖ: 21.11.2014
Bewertung: 3/5
Written by: Mayhemer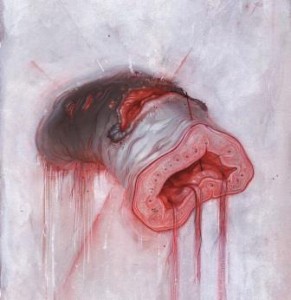 Ich muss zu meiner Entschuldigung gleich mal vorweg erwähnen, dass ich" American Heritage" bevor ich die neue Scheibe "Prolapse", am 21.11.2014 erschienen ist,  in Händen hielt, gar nicht kannte. Die aus Chicago stammende Band ist bereits seit fast 20 Jahren im Musikbusiness unterwegs und "Prolapse"  ist bereits das 6. Album der Band.  Also rein in den CD-Player und mal völlig unvoreingenommen durchgehört. Ein Durchgang reichte mir aber nicht, denn beim ersten Hören kam ich mit deren Songs noch nicht so zurecht. Der Stil ist klar definiert. Es ist eine Mischung aus Sludge, Hardcore und Punk. Also durchaus interessant. Das Album ist schmutzig produziert, durchgehend hart und genreüblich kreativ. Es ist ein Album für Fans dieser Richtungen. Mehr aber auch nicht. Es schießt nicht über die Grenzen hinaus, was ich manchmal sehr schade finde. Songs, wie "Mask of Lies", wo Mr. Jeffrey Lohrber (Enabler/Today is the day) die Gastvocals beisteuerte oder "Constant and Consuming Fear of Death and Dying" bilden da die wirklich geniale Ausnahme. Den Abschluss bilden 3 Coversongs von "American Heritage´s" Helden: "Boys against Girls" (Bulletproof Cupid)."The Descendends" (Hürtin´Crüe) und zum Abschluss  noch das wirklich geniale "Thirsty and Misery" Cover von Black Flag.
Fazit: Klar ist, dass die Jungs ihre Instrumente beherrschen. Klar ist aber auch, dass es sich um ein reines Genrealbum handelt. Für Fans von Sludge/Hardcore und Punk geeignet, aber ansonsten nur geeignet, wer Neues ausprobieren will. Rock on
Tracklist:
01. Eastward Cast The Entrails
02. Anxious Bedwetter
03. Obliviocrity
04. Constant And Consuming Fear Of Death And Dying
05. Mask Of Lies
06. Blackbird
07. Hürtin' Crüe
08 .Thirsty And Miserable
09. Bulletproof Cupid
Besetzung:
Bass – Eric Bocek
Gesang – Adam Norden
Gitarre – Adam Norden, Scott Shellhammer,
Schlagzeug – Mike Duffy
Internent: