Band: Brothers Of Sword
Titel: United For Metal
Label: Selfreleased
VÖ: 01.06.15
Genre: Heavy Metal
Bewertung: 4/5
Written by: Robert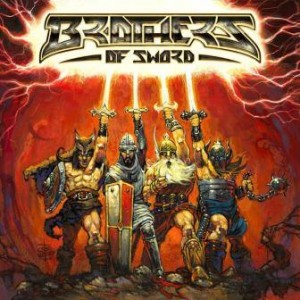 "Wenn die kan True Metal ham geh i wieder ham!!!!" So ähnlich könnte die Werbung für das Debütwerk der brasilianischen Heavy Metal Truppe Brothers Of Sword lauten. 2015 gegründet und schon rattern sie mit ihrem Full Length Debüt an. Nicht genügend Zeit, um da etwas Gutes zu zaubern? Nun wer auf authentischen Heavy Metal steht wird hier sicherlich ein gut schallendes Leder und Nieten triefendes Machwerk kaufen.
Die sehr Maiden lastigen Melodien sind passabel und lassen viel Lauen aufkommen. Sicherlich nicht der Umbruch in der Szene aber passt zu den guten Retroklängen sehr gut. Hymnische Einlagen und ein sehr rauer Fronter sind eine superbe Ergänzung. Dadurch erinnert er mich etwas an die ersten Werke von Squealer und Dark At Dawn. Vor allem mit ersteren wären sie von der stilistischen Ausrichtung her vergleichbar, zocken aber hier ein wesentlich Old School orientierteres Spiel.
Passt wie die Faust aufs Auge und man hat dadurch seinen ganz eigenen Charme. Satte Gitarrenmelodien stehen immer wieder guten Bretterrhythmen gegenüber. Teils galoppierend, teils wieder sehr speedig ist man stets bestrebt hier die volle Kultladung abzuschießen, was ihnen auch größtenteils auch gelingt. Die hymnischen Mitstampfparts stehen diesen ebenfalls gegenüber, bevor die Brasilianer wieder an das Eingemachte gehen.
Die ist mal wirklich eine gelungene Retrorunde die einem sofort ins Gehör geht und dabei auch nicht abgedroschen klingt. In der Produktion haben sich meiner Meinung nach kleinere Fehler im Drumsound eingeschlichen, aber auch hier kann man so von einer durchaus guten Arbeit sprechen. Das besondere Etwas ist der Fronter, der jodelt nicht mit zu enger angelegter Speedo Unterhose, nein er hat Eier und Kraft und posaunt mächtig die Stücke in die Metalwelt hinaus. Somit kein Gekreische, sondern harter Gesang der raueren Art. Macht einfach was her, denn die Jodelheimer der letzten Wochen und Monate sind ja schon kaum mehr zu zählen.
Mit dem Debüt haben die Brasilianer einen tollen Happen geschaffen, den man der True Metal Fraktion nur wärmstens empfehlen kann. Kleinere Mankos im Sound sind sicherlich noch ausbaufähig, aber im Großen und Ganzen drängen die aus Brasil stammenden Jungs aufs europäische Festland und sind ein absoluter Geheimtipp für jeden True Metal Fan.
Fazit: Sauberes Werk seitens der Brasilianer. Das ist mal ein frischer Rundling und vor allem der veranschlagte, sehr raue, tief unter die Haut drängende Gesang verleiht den Songs das gewisse Etwas. Eine Kultrunde, welche auch nach dem x-ten Durchlauf nicht langweilig wird.
Tracklist:
01. Brotherhood 01:41
02. The Song of Victory 04:35
03. Berserkers 03:55
04. The Cyclop 04:30
05. Bravos 03:11
06. A espada selvagem 03:16
07. Brothers of the Sword 04:08
Besetzung:
Fabio Paulinelli Silva (voc & all instruments)
Internet: