Band: Light Of The Morning Star
Titel: Nocta
Label: Iron Bonehead
VÖ: 03.03.2017
Genre: Gothic Metal
Bewertung: 2/5
Written By Gunther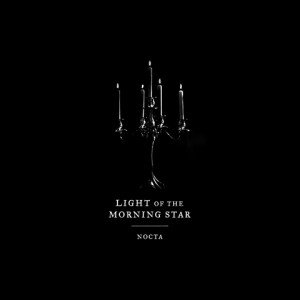 Düstere Töne erreichen uns diese Tage aus London. LIGHT OF THE MORNING STAR veröffentlichen mit "Nocta" ihr Debütalbum und huldigen die dunkle, atmosphärische Seite des Heavy Metals im düsteren Gothic – Style. Informationen kann man über die Briten leider nicht finden und so müssen also die neun Stücke alleine für sich sprechen. Nach einem kurzen Piano – Intro geht es auch gleich mit dem Opener und Titelsong los. Die Musik ist ein wenig schwarzmetallisch angehaucht, reicht aber vom Härtegrad nicht aus, um sie als Black Metal bezeichnen zu können. Die Lyrics werden sehr tief und clean performed. Leider bekommt man während des Zuhörens den Eindruck, dass der Sänger nicht gerade durch seinen Einsatz glänzt. Oft werden die Texte lediglich geflüstert oder lieblos heruntergeleiert. Nach dem mittelmäßigen Opener folgt mit "Coffinwood" auch schon der stärkste Song auf dem Silberling. Ausgestattet mit einer eindringlichen Hookline wissen die Briten hier zu überzeugen. "Serpent Lanterns" ist dann etwas flotter ausgefallen, jedoch fehlt hier jeglicher Wiedererkennungswert. Man verliert sich in der musikalischen Bedeutungslosigkeit nahezu. In dieser Tonart geht es dann auf "Nocta" auch weiter: egal ob mal melodiöser ("Grey Carriages") oder doch härter ("Crescendlight" oder "Ophidian"), die Stücke wollen auch nach dem x-ten Hördurchlauf nicht zünden und werden auch nicht über 0/815 Gothic – Geplänkel hinaus kommen. Einziger Lichtblick ist das an THE VISION BLEAK erinnernde, finale "Five Point Star". Hier ist es den Engländern tatsächlich gelungen, eine mitreißende düstere Stimmung zu kreieren und einen genialen Melodiebogen im Refrain zu verwenden. Für eine gute Benotung ist das aber leider zu wenig und somit schneiden LIGHT OF THE MORNING STAR auch dementsprechend lau ab.
Tracklist:
01. Nocta
02. Coffinwood
03. Serpent Lanterns
04. Grey Carriages
05. Crescentlight
06. Oleander Halo
07. Ophidian
08. Lord Of All Graves
09. Five Point Star
Besetzung:
O-A (voc & all instruments)
Internet:
Light Of The Morning Star @ Facebook