SOLDIERS OF SOLACE – WE ARE IMMORTAL
Band: SOLDIERS OF SOLACE
Titel: WE ARE IMMORTAL  
Label: Rock `N`Growl Records
VÖ: 26. Jänner 2018
Genre: Hard Rock / Heavy Rock
Bewertung: 3,5/5
Written by: Dr. Maze Pain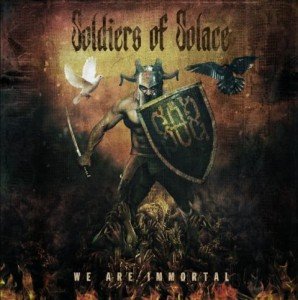 Soldiers of Solace aus den USA mit einem italienischen Drummer wurden ca. 2015 gegründet und haben sich trotz des Fehlens eines Albums in dem Zeitraum ihrer Gründung und des in ein paar Tagen erscheinenden Debütalbums "We Are Immortal" durchaus mit Ruhm bekleckert. Immerhin wurden sie bereits im Juli 2016 bei dem Radiosender iRockradio als "The Gale Toyota Unsigned Artist of the Month" ausgezeichnet. Diverse Shows taten dann ihr Übriges um den Jungs einen deutschen Plattenvertrag einzubringen. Und nun Anfang 2018 halte ich deren Debüt – Silberling in Händen und bin gespannt, ob die Vergleiche des Promosheets zu Bands wie "Alter Bridge", "Seether" oder gar "Guns N´ Roses" halten.
SO, die Vergleiche halten nicht. Wie auch? Am ehesten noch der Song "Cold As Stone" oder "Hannah (in gekürzter Version) ", die ohne zu zögern auch auf einem Seether Album erscheinen könnten. Aber ansonsten machen Soldiers of Solace ihr Ding. Ihr ganz eigenes. Und mit diesen Größen verglichen zu werden, dazu gehört schon einiges an Mumm.
Ihre Musik ist einfach, hart, aggressiv, kraftvoll und modern. Die beeindruckendste Sache von Soldiers Of Solaces´ Musik sind die Riffs und die Gitarrenarbeit im Allgemeinen. Diese ist punktgenau und fährt ein ordentliches Brett. Dazu kommen noch die Vocals, die man am ehesten noch mit Disturbed vergleichen kann, aber eben nur fast.
Aber eigentlich steht SOS hier für gute, selbst produzierte Mucke, die jedem Modern U.S. Metal Fan schmecken sollte und auf alle Fälle für gute Laune sorgt. Daumen hoch! Rock on!
Tracklist:
01. Rude Awakening
02. We Are Immortal
03. Cold As A Stone
04. Naked Truth
05. Walk Tall
06. Circus Clown
07. Washed In Flames
08. Dear John,
09. Freedom's Children
10. Hannah
Besetzung:
Jason Longo – Vocals
Ron Therrien – Bass
Luis Cubille – Rhythm Guitar
Jeff Fahy – Lead Guitar
Francesco Daniele – Drums
Internet: