Band: Soulimage
Titel: The Whole Universe
Label: ((echozone))
VÖ: 20.05.16
Genre: Synth Rock
Bewertung: 3,5/5
Written by: Robert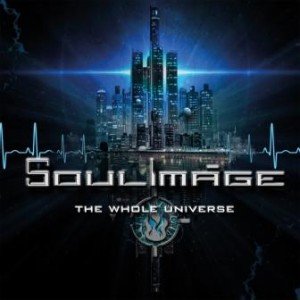 Dynamischen Elektro Rock haben sich die Regensburger Soulimage auf das Banner geschrieben. Bis dato habe ich von der Truppe noch nie etwas gehört, mir aber vorab deren Debüt Ep zum Reinschnuppern angehört. Genau deshalb dieser Schluss, was sicherlich auch beim Album umgelenkt hätte werden können. War aber nicht so und so darf man sich erneut einem sehr breiten Feld des Synth Rock ergötzen. Ob nun leichte NDH Einflüsse, gute Gothic Rock oder dunkel romantische Rock Parallelen, alles wurde zu einem durchaus satten, sehr mitreißenden Sound vermischt.
Vor allem die elektronischen Arrangements wurden ganz gut unter Dach und Fach gebracht. Demgegenüber steht oftmals eine für mich zu klinische Produktion. Dadurch klingt es an und ab etwas zu aalglatt. Rauere Ecken und Kanten wären doch etwas harmonischer gewesen. Ist aber nur eine kleine Beanstandung, denn im Großen und Ganzen zeigt man sich von einer durchaus sehr animierenden Seite. Vor allem die shakigen, sehr tanzbaren Parts stehen für sich und wissen das breite Spektrum an genannten Genrefans zu überzeugen.
Die Bayern mit jemanden zu vergleichen ist doch sehr schwierig. Denn an der einen Stelle sagt man, he klingt wie und schon erinnert man wieder an jemanden anderes. Der größte Bestandteil, welcher mir immer wieder in Erinnerung gerufen wird, sind Atrocity zu "Werk 80" Zeiten, bzw. was den Gothic Anteil betrifft wären hier Theatre of Tragedy zu nennen. Die Innovation wird aber bei den Regensburgern sehr groß geschrieben und so erspielt man sich eben mit viel eigener Kraft und guten Ideen in die Herzen der Musikliebhaber der dunkel-romantischen Art, welche auch eben eine breite Palette an Elektro Sounds geneigt sind.
Die Vermischung ist den Jungs gut gelungen und auch klingt man nicht wie der x-te Abklatsch einer Vorreiterband. Eigene Umsetzungen und Ideen wurden gut kombiniert und so muss man beim Sound der Jungs alle Daumen hoch halten. Wie bereits erwähnt das Mischkombinat ist gelungen, lediglich wären hier und da groovige Ecken und Kanten etwas schmucker gewesen. Doch auch so kann man sich sicherlich an die Spitze der Elektro verfärbten Rockszene spielen, denn das Potential wurde gut genutzt und die gesetzten Stimmungsanker sprechen ebenfalls fürs Konzept der deutschen Jungs.
Fazit: Eine sehr reichhaltige Synth Rock Palette die man hier vorlegt. Sicherlich ist, was die Produktion an sich betrifft noch etwas Luft nach oben hin, aber was die Mixtur an sich betrifft spielt man schon definitiv in der Oberliga.
Tracklist:
01. Never Enough (4:12)
02. Follow Me (4:18)
03. Angel Heart (4:18)
04. Generator (3:36)
05. Raining Blood (4:14)
06. Heaven Above (4:26)
07. Fall In Love Again (4:22)
08. Isolation (4:48)
09. Can You Feel Me (3:30)
10. The Whole Universe (5:08)
11. My Machine (4:40)
12. Change The World (5:00)
13. Forever (7:44)
Besetzung:
Robert Eberl (voc)
Stefan Siegl (keys & voc)
Burbn (guit & voc)
Jürgen Igl (bass)
Luck Willecke (drums)
Internet: