Band: State Champs
Titel: Arround The World And Back
Label: Pure Noise Records
VÖ: 16.10.15
Genre: Pop-Punk
Bewertung: 4/5
Written by: Robert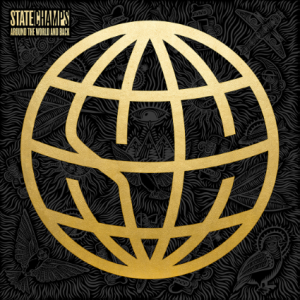 2010 fiel der Startschuss von State Champs in Albany, New York. Sie haben es sich zum Auftrag gemacht den Punk mit Pop zu fusionieren. Meine Fresse schon wieder so ein Act, gibt es nicht tausend andere davon. Wenn man aber so durchs Netz surft liest man eigentlich nur Gutes über diesen Act. Da wird vom Pop Punk-Sommerfeeling gesprochen, na das sollte durchaus ein Grund sein tiefer in das Machwerk zu blicken. Während nämlich die Heizungen in den heimischen Wänden für Sommer sorgen, klettern die Temperaturen ja draußen merklich nach unten.
Fix ist definitiv, dass die Jungs keine Billigsdorfer Highschool Truppe sind und durchaus viel Kraft im Gepäck mitbringen, sowie auch energetisch durchgreifende Fragmente. Keine Frage die Temperatur steigt mit ihrem doch eher simplen gestrickten Sound durchaus. Auch ist die Fusion sicherlich eine harte Arbeit gewesen, aber das Grundkonzept ist sehr solide ausgerichtet und man darf jetzt was den Rhythmus an sich betrifft nicht den Technik Act an sich erwarten. Wie eine geöffnete Dose Red Bull die man runter leert pirschen die Jungs sich mit einem ähnlichen Wirkungsgrad an und spielen sehr spritzfidel und rotzfrech dahin. Macht durchaus Laune, auch wenn man das Genre an sich jetzt nicht revolutionieren wird. Wichtiger ist aber dabei, dass man mit dieser Art der Musik durchaus viel Wiedererkennungswert hat. Man braucht hier nicht dreckiges Sprachgut oder Ghettosprachen, um den Hörer von einer nicht vorhandenen braven Seite überzeugen zu können.
Potential haben die Jungs nämlich in ihrer Spielweise und dem Erscheinungsbild das man musikalisch wiederspiegelt. In einem doch überlaufenen Bereich ackert man sich mühsam ab und offeriert einfach einen Spirit, welcher nicht zu brav wirkt und trotzdem von der Vulgärsprache absieht. Das sollten sich auch mal viele Nacheierer mal zum Konzept machen. Lernt zu spielen und nicht zuerst Image. Image kommt von selbst und das haben die Jungs mit ihrer Art der Musik sehr gut getan.
Schrillen Kommissionierungen in den Melodien werden mit verzerrten Rhythmen überlegt und dadurch ist eine sehr mitreißende Mischung entstanden. Sicherlich etwas substantieller aber noch mit genügen Push und Punsh, sodass man einfach mitgerissen wird.
Fazit: Wirklich toller Happen und da beweisen State Champs, dass sie den Titel zurecht tragen, denn man unterbreiten einen vorrangig soliden Sound, dem kann man aber auf Dauer und ewig etwas abgewinnen.
Tracklist:
01. Eyes Closed
02. Secrets
03. Losing Myself
04. All You Are Is History
05. Perfect Score
06. All Or Nothing
07. Shape Up
08. Back and Forth
09. Around The World And Back
10. Breaking Ground
11. Tooth And Nail
Besetzung:
Derek DiScanio (voc)
Tyler Szalkowski (guit)
Ryan Scott Graham (bass)
Tony "Rival" Diaz (guit)
Evan Ambrosio (drums)
Internet: