Band: ADRAMELECH
Titel: PURE BLOOD DOOM
Label: Nuclear Abominations Records
VÖ: 1999/2018
Genre: Death Metal
Bewertung: 3,5/5
Written by: Maze P.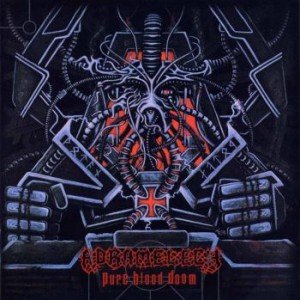 Die 1991 gegründeten Adramelech aus dem schönen Finnland haben sich lange Zeit die Mitglieder mit der Band Demigod geteilt. Desweiteren ist es so, dass die Jungs, naja, so jung sind sie wahrscheinlich nicht mehr, eine Vielzahl von Alben veröffentlichen konnten, die Ihnen durchaus Erfolge in der Szene brachten, aber nie den großen Durchbruch erlaubten. Vor allem, bei ihrem damals dritten Album "Pure Blood Doom", welches über Repulse Records erschien, hatte die Band Pech, weil das Label pleite ging. Somit veröffentlichten die Finnen das Album damals über ihr eigenes Label Sever Music und nun 2018 erscheint dieses stark gesuchte, weil vergriffene Album wieder in neuem Gewand.
Zuallererst mal vorweg. Das Album an sich ist 19 Jahre alt. Aber aufgrund der heutigen Technik und Produktion muss ich sagen, dass es den Sprung in die Moderne geschafft hat. Weiters klingt das Album nach einem Spagat aus frühen 1990er und Mitte 1980er Death Metal. Solide und gut. Es befinden sich wirklich starke Songs darauf, die einfach super in die Szene passen und somit das Album nicht langweilig werden lassen. Aber eben keine Ausrisse in eine andere Richtung. Ist auch hier nicht nötig. Death Metal to the Bones!
Songs wie "Thule", "Centuries of Murder" oder "Domination 459" ergeben auch textlich in der heutigen Zeit noch Sinn und musikalisch sind diese Werke wunderbar umgesetzt. Ein Album, dass solide, aber nicht herausragend seinen Weg geht und in der Death Metal Fraktion durchaus für Spaß in den Ohren sorgen könnte. Daumen hoch! Rock on!
Tracklist:
01. Centuries of Murder
02. Thule
03. Abomination 459
04. Season of the Predator
05. Thingstead
06. Lord of the Red Land
07. Evercursed
08. The Book of the Black Earth
09. Spawn of the Suffering
Besetzung:
Jarkko Rantanen  Drums
Jari Laine  Guitars, Bass
Ali Leiniö  Bass, Guitars, Vocals